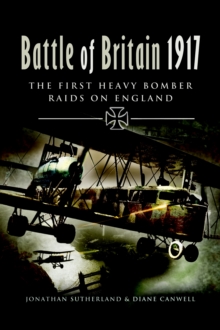 Battle of Britain 1917
Hardback
Description
In the autumn of 1916 the Germans began to equip with the Gotha twin-engined bomber.
Of a pusher layout, these aircraft could fly at 15,000 feet, well above any contemporary fighter's maximum height.
With a range of 800 km (500 miles) and a bomb load of up to 500 kg (1,100 lb), the Gothas were designed to carry out attacks across the channel against Britain.
A group of four squadrons was established in Belgium, and they carried out their first bombing raid towards the end of May 1917. This 22 aircraft sortie, against the town of Folkestone, caused 95 deaths. In mid June a force of 18 Gothas attacked London in broad daylight. Over 90 British fighters met them, but not one Gotha was brought down. This bombing raid caused 162 deaths. From mid-September an even larger, more potent bomber joined the Gothas.
The Zeppelin-Staaken Riesenflugzeug or Giant" bomber was a four-engined tractor biplane with an enclosed cabin that may have been inspired by the Russian Murometz.
The Giant certainly deserved its title with a wingspan of 42 metres (138 feet) it was only one metre (3 feet) shorter than Boeing's famous B29 Superfortress of World War II fame
Information
Format: Hardback
Pages: 224 pages, 60 plus black & white within text, 4 maps and 2 design plans
Publisher: Pen & Sword Books Ltd
Publication Date: 16/03/2005
Category: European history
ISBN: 9781844153459