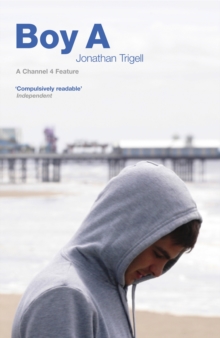 Description
WINNER OF THE WORLD BOOK DAY - BOOKS TO TALK ABOUT PRIZE 2008 WINNER OF THE JOHN LLEWELLYN RHYS PRIZE 2005 WINNER OF THE WAVERTON GOOD READ PRIZE 2005 ?A is for Apple. A bad apple.? Jack has spent most of his life in juvenile institutions, to be released with a new name, new job, new life.
At 24, he is utterly innocent of the world, yet guilty of a monstrous childhood crime. To his new friends, he is a good guy with occasional flashes of unexpected violence.
To his new girlfriend, he is strangely inexperienced and unreachable.
To his case worker, he?s a victim of the system and of media-driven hysteria. And to himself, Jack is on permanent trial: can he really start from scratch, forget the past, become someone else?
Is a new name enough? Can Jack ever truly connect with his new friends while hiding a monstrous secret? This searing and heartfelt novel is a devastating indictment of society?s inability to reconcile childhood innocence with reality.
Information
Format: Paperback
Pages: 256 pages
Publisher: Profile Books Ltd
Publication Date: 25/10/2007
ISBN: 9781846686627
Free Home Delivery
on all orders
Pick up orders
from local bookshops
Reviews
Showing 1 - 5 of 15 reviews.
Previous | Next
Review by flissp
16/06/2015
I'm adding an extra couple of paragraphs retrospectively, because I read something that pointed out that a review should really describe a book rather than be opinion. Well, actually, when I read a review, I like a bit of opinion, if it's someone I trust (and, in fact, the reverse), it gives me an idea of whether or not I'll like the book, as the blurb on the back of a book is inevitably inaccurate. That said, this person had a point, so:Boy A is the story of a boy convicted of committing a horrifying crime with a friend when a child and who consequently has lived most of his life in young offenders prison. It begins with his release back into the community, now a young man renamed Jack, and deals with his re-integration. We watch him trying to start again and adjust back into normal life, whilst having to hide his true identity from his new friends, girlfriend and aquaintances. We watch the conflicts this induces, whether it is possible to live normally with such a huge secret in your past. At the same time, we get glimpses back into his early life, leading up to his imprisonment and what actually happened and why.Well, I started out finding the rather over-dramatic writing style irritating (I realise this was probably to emphasise the grittiness of the story, but it didn't work for me), however, it didn't take me very long to get over that. This is a gripping book and a very easy read - I read it the day I received it. I would say though that while I found the way the topic is explored interesting, the story sad and the people and their reactions (_mostly_) very believable, I never really found I believed the story and how it pans out itself. The true tragedy never really came across to me.An interesting book, which was very readable, but not life-changing.________________________________________________Another retrospective as I have just seen a rerun of the C4 adaptation of this book, which was, in my opinion (several months after reading the book), very good and, after all, time makes all the difference to first impressions.So, retrospectively, the book obviously made much more of an impression than I gave it credit for - the story was still very fresh in my mind and still upset me just as much as it did last time - leaving me just as undecided as to where my sympathies lay as when I read it.I still stick with my original rating (above average, but not special) - principally because the writing style _did_irritate me, as did some of the plot contrivances, but I would recommend it not just as a 'good read' but as thought provoking too. Above all, this story is about the truth and how honesty is not, but maybe should be, the best policy - make your own mind up!
Review by sandpiper
16/06/2015
I approached this book with some trepidation - the synopsis being the story of a man who, as a child, committed a "monstrous crime", and is now about to be released with a new false identity, aged 24. I thought it sounded like a depressing story, and I would not really not be able to empathise with the main character. I was very wrong. The book's narrative grips from the first page, where Jack, newly released, marvels at "this new unroofed world". You are immediately told the basics of his case - jailed as a barely-prosecutable child, vilified by the tabloid press - but the young man we meet seems startled by the world, guided by the youth worker, and father-figure, Terry, who has been his only true friend throughout his imprisonment.The story jumps between two different times - one thread starts at the moment of Jack's release, the other starts during his childhood. As both threads progress, we get to know both the man and the boy, and we start to wonder what went wrong? His current day story carries on in a linear fashion, but the story of his childhood and imprisonment jumps backwards and forwards. The author keeps the suspense running, and by the time we get close to what the boy is supposed to have committed, we know the man well enough to question his guilt. I read the Serpent's Tail edition of this book, and there were a couple of annoying typographical errors which jarred me out of the story in which I was engrossed. It might sound petty, but when you see something wrong, it leaps out at you and distracts you. (For reference, the two errors are "Mr Ben" instead of "Mr Benn" (the children's television programme), and "a long barrelled Cannon" rather than Canon, regarding a camera lens.)But overall, a very engrossing read. I would recommend it to anyone.
Review by JonArnold
16/06/2015
Boy A is an uncomfortable, spiky and angry book that asks awkward questions of the reader, their attitude towards capital punishment and whether some crimes are unforgivable. It also shows the difference between what we are on the inside and the face we present to the outside world.Jack's a sympathetic lead character, eager to forget the past and move on. Trigell excels in portraying the naivety of someone who's missed out on the socialisation of teenage years and early adulthood, the joy Jack takes in things the rest of us take for granted. We're actually left unsure as to exactly what were Jack's actions as 'Boy A'in the child murder that led to his conviction, thereby preventing a judgement being passed, although it's made very clear that he is, to an extent, the victim of his circumstances. And we also see the motivations of those who bring him to where he is, how much of their actions are shaped by self interest to the point where the first people to care for him for altruistic reasons are his workmates and lover. We're shown how all the potential happiness in his new start is ruined by the thought of his past life catching up or what would happen if people found out. It's tainted by that one terrible action in his past and how all this gradually ruins the life he's trying to build and, to a greater or lesser extent, the lives of those around him. It's almost a tragedy in the classical sense as there's an air of inevitability about the way events unfold, first in his childhood and then upon his release. There's the odd narrative contrivance (such as the computer ability of Terry's son, alhtough the motivation, as with every character, is solid) and the author does occasonally lay Jack's victimhood on with a trowel (such as the jury member with the fading NF tattoo). Nevertheless, there's the ring of truth as all the characters are well motivated and their actions never feel contrived or out of character, although the voices of the narrators in different chapters could perhaps have been a little more distinctive.It's reassuring to know that their are authors out there such as Trigell who are willing to tackle difficult issues in such an intelligent manner. Boy A is an often painful, upsetting and relentless read, a knife twisting in society's wounds, questioning the ability of humans to forgive or forget. It left me uncomfortable and questioning my own attitudes, a definite credit to the author. Recommended.
Review by Uffer
16/06/2015
I confess, I failed to finish this book. It's not badly written - in fact, there is a hallucinatory clarity in places, with - in some cases, rather unpleasant - images sort of swimming up in front of you whether you really want them or not. It's very visual, very acutely observed, but just didn't work for me, possibly in part because there are things in here that make me feel obscurely guilty for having had a 'normal' childhood.Those are the things, of course, that lead into a degree of sympathy with protaganist Jack, despite being fairly sure you are going to see him do something horrible, both in the interspersed flashbacks and the ongoing 'now'. And that, together with the inescapably visual nature of the book, is why I just can't continue reading. If the bit with the eel can make me gag, I don't want to know how this is going to pan out at either end of the timeline.Sorry, Jack - you're on your own.
Review by olippold
16/06/2015
"Boy A", the first novel by author Jonathon Trigell tells the story of Jack, a young man recently released for prison for a murder he committed as a child with another boy ("Boy B"). The story is clearly based on the Jamie Bulger case where two young boys murdered a three year-old toddler. As in the factual case, Boy A is given a new identity, "Jack" and a job. He struggles to live an adult life but manages to make friends, find a girlfriend, and even become something of a local hero after saving someone's life. However, the threat of his real identity being revealed constantly hangs over him. The story is divided into 26 fairly short chapters (one for each letter of the alphabet) which include Jack's current life, flashbacks to the past and to the murder, as well as some chapters dealing with other characters, such as Terry, his social worker, the other boy involved, and his girlfriend Michelle.Jack is clearly meant to be a sympathetic character, so the book raises important questions about whether he should be entitled to a normal life after serving his prison sentence. The book shows factors in his life that led to his predicament, though it does shy away somewhat from going into too much detail about the murder, and seems to place most of the blame on Boy B. I think if Jack was made more culpable, it would challenge the reader more by making it harder to feel sympathy for him. The book is well written, with some clever usage of language, such as phrases like "seamless sameness", though this doesn't always work - for example it took me a few seconds to realise "ladvert" was not a typo.Overall, these are minor criticisms, and I enjoyed the book. Despite the grimness of the subject, I felt there was something quite optimistic about the story, probably due to the humanity of many of the characters.