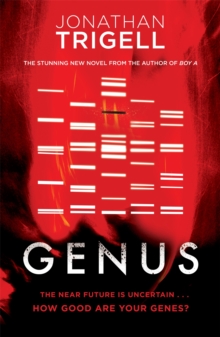 Description
In the Britain of a few tomorrows time, physical perfection is commonplace and self improvement has become an extinct expression: all the qualities men and women could aspire to can be purchased prior to birth. GENUS is a time of genetic selection and enrichment - life chances come on a sliding scale according to wealth.
For some there is no money or choice, and an underclass has evolved; London's King's Cross, or The Kross as it is now known, has become a ghetto for the Unimproved.
In The Kross, the natural, the dated, the cheap and the dull, live a brittle and unenviable existence.
But unrest is growing; tension is mounting and a murderer is abroad in these dark quarters...Acclaimed author Jonathan Trigell's third novel is a breathtaking tour de force, exploring a dystopia of the not-too-distant-a future which will leave readers wondering not 'what if', as the original audience of Huxley's Brave New World did, but 'when'.
Praise for Jonathan Trigell:'A compelling narrative, a beautifully structured piece of writing, and a thought-provoking novel of ideas.
It's a wonderful debut.' - Sarah Waters, Chair of the Judges for the John Llewellyn Rhys Prize on Boy A'A fine and moving debut novel... compulsively readable... a rare treat' The Independent on Boy A'Does for extreme winter sports what Alex Garland's The Beach did for backpacking.' - Financial Times on Cham.
Information
Format: Paperback
Pages: 288 pages
Publisher: Little, Brown Book Group
Publication Date: 20/12/2007
ISBN: 9781780334400
Free Home Delivery
on all orders
Pick up orders
from local bookshops
Reviews
Showing 1 - 1 of 1 reviews.
Review by readafew
16/06/2015
Genus is gritty. It happens 1-2 hundred or so years in our future. Things have changed, and yet, it's amazing how much they've stayed the same. Still the have's and have not's, still 'us' vs. 'them'. But we now have a new line in the sand to use for discrimination. It's not our race any more or the color of our skin, not even our religion (because that has mostly been wiped out) but our genes. A scientist discovered a way to manipulate human DNA reliably and those who can afford it (and those who can't afford not to) pay for designer babies, no longer are our children's future left up to chance. We come upon the scene when Improved vs. Unimproved is reaching its pinnacle. Those whose parents didn't pay for improvements to their genes are fast becoming 2nd class citizens. They are unwanted and underfoot. Most came from the poor who couldn't afford gene manipulations and the remnants of the religious who believed it to be an act against God to play god with their offspring. Now these poor are slowly herded into places like the Kross. They are poor because they are unimproved and can't find gainful employment and they are unimproved because they are poor. Healthy women have a commodity as a 'broodmare' they can sell; carrying other women's improved children to term. Everyone else tries to make do how they can.I found this book to be thought provoking and very well written. It had a mystery that was very well done and turned out to be a great conspiracy. The underlying story is taking a look at hate of others for being different, in the end it was very similar to the Nazi's and the Jews, the US and the Native Americans, the Muslims in Bosnia. Anywhere hate of the other is allowed to fester or worse encouraged to the point of genocide. While the story is told from the point of view of several different people, the primary one is a cripple, born from hubris. A man trying to make his way in the world the best he can, with what talent he has. It really makes you think.