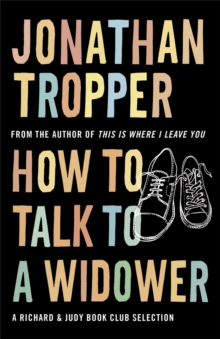 How to Talk to a Widower
Paperback
Description
A stunning novel of love, loss, laughter and too much bourbon from the author of THIS IS WHERE I LEAVE YOU.When Doug married Hailey - beautiful, smart and ten years older - he left his carefree Manhattan life to live in the suburbs with Hailey and her teenage son, Russ.
Three years later, at 29, Doug has been a widower for twelve months and just wants to drown himself in self-pity and Jack Daniels.
But his family has other ideas...Russ is furious with Doug for not adopting him, and has fallen in with a bad crowd.
Claire, Doug's irrepressible, pregnant twin sister, has left her husband and, uninvited, moved in with Doug. And their sister Debbie is determined to have the perfect wedding, at any cost.
Soon, Doug finds himself trying to forge a relationship with Russ, reconnect with his own eccentric family, and reluctantly edges back into the complicated world of dating...
Information
Format: Paperback
Pages: 368 pages
Publisher: Orion Publishing Co
Publication Date: 28/06/2007
ISBN: 9780752893198
Free Home Delivery
on all orders
Pick up orders
from local bookshops
Reviews
Showing 1 - 5 of 6 reviews.
Previous | Next
Review by deezzy
16/06/2015
This book moved me to tears and laughter. It's the story of a young man called Doug who's wife has been killed in a plane crash. His journey is one initially of grief and depair. Then a realisation of other how others close to him are coping (or not) with their own demons.
Review by SmithSJ01
16/06/2015
I thought the plot was excellent and I was very much looking forward to reading this. In fact I thought it would be the best one out of this year's Richard & Judy selection. Sadly, for me, this wasn't the case. Doug and Hailey have been married for 2 years when she dies very tragically and Doug is left as a widowed step-father looking after Russ, her teenage son. The story revolves around a year of his bereavement. Ideally this should be a fabulous read but I found it very shallow and lacking emotion. I didn't expect to be weeping and wailing at every page but I expected to be feel sad and touched by something in the novel. There were aspects of it that I found revealing - such as which bed to sleep with the neighbour on (the married neighbour at that) and then choosing his won bed for the last girl he dated. You did see insights into his life but then I thought hang on, he's meant to be looking after the son how can he just drink himself into oblivion. Each chapter seemed to be the same, nothing stood out for me. If he was able to openly share his grief with the world through a magazine column why could he not begin to move on and help Russ work through the grief as well. I was pleased he 'did the right thing' eventually and although he hadn't adopted Russ previously he acknowledged his responsibilities and dealt with Russ' father. There was a lot about each character that was truly awful and I was thankful that my family and my husband's were not like this. They were kind to each other but it didn't seem to come naturally. His father however was a truly loveable character and redeemed the novel for me. I know everyone experiences grief differently and because I haven't in this way then for me I felt he was somewhat selfish when he had a teenager he was responsible for guiding. I thought there were areas that weren't particularly well written but equally there were a couple of parts I did laugh at.
Review by michaeldwebb
16/06/2015
The one had a sticker on the front - A Galaxy (as in the chocolate bar) Richard and Judy Summer read. Hmmm. Doesn't sound promising?It pretty much lives up to expectations as well, so I guess the old adage never judge a book by its cover (sticker) holds up pretty well here. It's the story of a widower with a vaguely disfunctional family working through his grief in a lightweight, vaguely untroubling, sub-Douglas Copeland kind of way. To be fair, the book is perfectly readable, a perfect summer beach read maybe, by not something that will live on for more that a few seconds after you close the book.
Review by LadyHazy
16/06/2015
An absolutely brilliantly well written book.The basic story doesn't sound incredibly captivating, but it is so well written that it had me both crying with despair and crying with laughter in different places.Highly recommended - I look forward to reading more books by Mr Tropper.
Review by dhelicious
16/06/2015
I bought and read this book a long time ago so this review is long overdue and i cannot let it pass and not praise this book. I don't know why i decided to buy it in the first place but whatever the reason I was glad that I did.Witty, funny (with a few laugh out loud moments). A story of a twenty nine year old man Dough Parker, whose early marriage life was cut short by the death of her beloved wife Hailey who is 10 years older than him. Grieving and drowning in self-pity,enter her pregnant twin sister who decided to leave her husband and move in with him uninvited determined to sort out his life around by suggesting for him to start back dating after 3 years of grieving along side too many bottles of jack daniels. And here goes his younger sister soon to be a bride trying to pull off a perfect wedding.With family reconnecting relationships, a wayward stepson who needs guidance, with funny hilarious dates scenarios things just gets interesting and spins out of control.Uplifting and realistic enough that you can't help but be infected by it. At the end of the book, I felt like I was a part of the family!