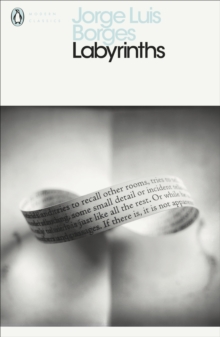 Labyrinths : Selected Stories and Other Writings
Paperback
Description
Jorge Luis Borges's Labyrinths is a collection of short stories and essays showcasing one of Latin America's most influential and imaginative writers.
This Penguin Modern Classics edition is edited by Donald A.
Yates and James E. Irby, with an introduction by James E. Irby and a preface by Andre Maurois. Jorge Luis Borges was a literary spellbinder whose tales of magic, mystery and murder are shot through with deep philosophical paradoxes.
This collection brings together many of his stories, including the celebrated 'Library of Babel', whose infinite shelves contain every book that could ever exist, 'Funes the Memorious' the tale of a man fated never to forget a single detail of his life, and 'Pierre Menard, Author of the Quixote', in which a French poet makes it his life's work to create an identical copy of Don Quixote.
In later life, dogged by increasing blindness, Borges used essays and brief tantalising parables to explore the enigma of time, identity and imagination.
Playful and disturbing, scholarly and seductive, his is a haunting and utterly distinctive voice. Jorge Luis Borges (1899-1986) was born in Buenos Aires, Argentina. A poet, critic and short story writer, he received numerous awards for his work including the 1961 International Publisher's Prize (shared with Samuel Beckett).
He has a reasonable claim, along with Kafka and Joyce, to be one of the most influential writers of the twentieth century. If you enjoyed Labyrinths, you might like Franz Kafka's Metamorphosis and Other Stories, also available in Penguin Modern Classics. 'His is the literature of eternity' Peter Ackroyd, The Times 'One of the towering figures of literature in Spanish' James Woodall, Guardian 'Probably the greatest twentieth-century author never to win the Nobel Prize' Economist
Information
Format: Paperback
Pages: 288 pages
Publisher: Penguin Books Ltd
Publication Date: 01/09/2000
Category: Anthologies (non-poetry)
ISBN: 9780141184845
Free Home Delivery
on all orders
Pick up orders
from local bookshops
Reviews
Showing 1 - 5 of 5 reviews.
Review by wendyrey
16/06/2015
A collection of short stories, essays and musings. Very clever and (mostly) interesting and enthralling. A few bits when over my head somewhat but altogether well worth the read.
Review by jontseng
16/06/2015
A book of tantalising and fascinating intellectual conceits. A reminder that one mark of genius is to make things look so simple...
Review by soylentgreen23
16/06/2015
I wanted so desperately to enjoy this book, but in the end I hardly understood most of what Borges wrote, and appreciated even less. Still, those stories I was able to figure out were excellent, and his ideas about the Quixote are incredible; I will remember them for an infinity of forevers.
Review by isabelx
16/06/2015
Time is the substance I am made of. Time is a river which sweeps me along, but I am the river; it is a tiger which destroys me, but I am the tiger; it is a fire which consumes me, but I am the fire. The world, unfortunately, is real; I, unfortunately, am Borges. My fourth re-read of the month is "Labyrinths" by Jorge Luis Borges. a book of short stories, essays and the even shorter stories here referred to as parables, which that he wrote later in life once his blindness made it impossible to write longer stories. This may be a bit of a cheat as a re-read, since although I have read some of his stories before, I don't think that I have read this particular book. The thought-provoking stories in this book are about time, identity, betrayal and of course labyrinths, both real and metaphorical. It is hard to choose but my favourite is possibly "The Lottery in Babylon". My feelings about the essays are more mixed. I enjoyed those about history and literature but was bored by the more philosophical topics such as the concept of God as a sphere, and whether there is actually any such thing as time (that one was rather longer than the others and seemed to take me forever to read, although it probably wasn't forever, as apparently there is no such thing as time). My favourites was "The Argentine Writer and Tradition" one in which Borges defends himself by saying that you don't have to stick to writing about gauchos in order to claim that you are an Argentine writer.
Review by xuebi
16/06/2015
This collection of short stories by Jorge Luis Borges is a selection of weird and wonderful, philosophical tales about dreams, labyrinths, libraries, mirrors, animals, fictional writers, philosophy, religion and God - some of the main themes in Borges' works. <br/><br/>Each of the stories are well worth reading, some of the best in this collection include "The Library of Babel" (about a bizarre library that has every book ever), "Pierre Menard, Author of the Quixote" (about writing and writers, a man who rewrites Don Quixote and whose version is sublimely superior), and "Tlön, Uqbar, Orbis Tertius" - wherein the world as we know is slowly replaced by a constructed culture from Tlön. <br/><br/>This collection of stories exhibits the best of Borges' work and is very much worth reading.
Also in the Penguin Modern Classics series | View all