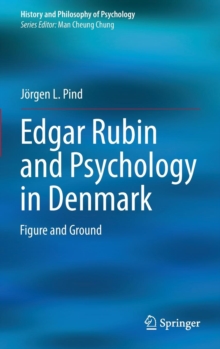 Edgar Rubin and Psychology in Denmark : Figure and Ground
Hardback
Description
Edgar Rubin was one of the outstanding pioneers of perceptual psychology in the early twentieth century.
His approach involved a turning away from an earlier elementaristic psychology towards an approach based on "perceptual wholes." Rubin's approach is closely linked to the Gestalt revolution in perceptual psychology and was eagerly embraced by the Gestaltists.
This has often led to Rubin being classified as a Gestalt psychologist.
This misrepresents his position as is shown in the book.
Rubin's aim was to develop a descriptive psychology - or aspective psychology to use his terminology - which would do full justice to the complex nature of psychological phenomena.
Thus he rejected attempts by the Gestalt psychologists to explain diverse phenomena within a single overarching framework.
While Rubin is internationally often misclassified as a Gestalt psychologist, in Denmark he is often hailed as a pioneer of a specific Danish "school of phenomenology." This also misrepresents Rubin's approach who was highly critical of psychological "schools." His criticisms of the overambitious theoretical aspirations of Gestalt psychology, his negative attitude towards school formation in psychology were both highly prescient.
What remains today of Gestalt psychology is primarily its descriptive parts; the idea of schools of psychology, so common in early twentieth century psychology is now seen as a totally outmoded viewpoint.
There is an interesting moral in this story for the history and status of psychology; to wit, that Rubin's emphasis on the correct description of psychological phenomena shows what is likely to live on as classic contributions to psychology.
This certainly holds for his own work on figure and ground which, after almost a century, is still universally known and admired by psychologists.
He was indeed a consummate psychological observer. The book argues for the importance of description in psychology.
Information
Format: Hardback
Pages: 228 pages, X, 228 p.
Publisher: Springer International Publishing AG
Publication Date: 08/08/2013
Category: Psychology
ISBN: 9783319010618
Free Home Delivery
on all orders
Pick up orders
from local bookshops
Also in the History and Philosophy of Psychology series | View all