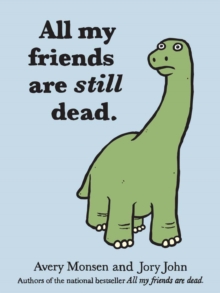 All My Friends Are Still Dead
Hardback
Description
From the authors of the breakout national bestseller All My Friends Are Dead (more than 100,000 copies in print) comes a brand new illustrated compendium of the humourous existential ruminations of people, animals, legendary monsters, and inanimate objects.
Readers will appreciate the plight of the light bulb whose only friends are burnouts, the caterpillar whose friends have all really changed, the cookie whose friends are crumbs, the cactus whose friends always kind of look like they're flipping you off, the robot who was not programmed to understand the concept of friendship, and many more, and fans new and old will laugh (and cry) out loud with this new, darkly funny celebration of the inevitable.
Information
Format: Hardback
Pages: 108 pages
Publisher: Chronicle Books
Publication Date: 07/03/2012
Category: Humour
ISBN: 9781452106960
Free Home Delivery
on all orders
Pick up orders
from local bookshops
Reviews
Showing 1 - 5 of 7 reviews.
Previous | Next
Review by Jessiqa
16/06/2015
The sequel to All My Friends Are Dead gives us even more macabre examples. I laughed out loud while reading this just as I did with the first. the art is adorable and the text elicits an "aww" quite regularly. I bought it as a present for myself and it's probably one of the better presents I have ever bestowed upon myself. Seriously, folks, read it.
Review by SparklePonies
16/06/2015
Did I mention I like puns and word play? I guess if you have to be morbid you might as well be smart about it. I would love it if this book were the prompt for a writing assignment students. Reading this made me want to read Go The F*** to Sleep. The humor is so cutting but accurate.
Review by SparklePonies
16/06/2015
A "sequel" to the other Dinosaur title. It has all the same attributes as the original.
Review by SparklePonies
16/06/2015
Ditto review: Inappropriately humorous; a good suggestion for those reluctant readers looking for a quick read and a giggle. Anyone who plays the game "Cards Against Humanity" would get a chuckle from this.
Review by SparklePonies
16/06/2015
This book can be read alone or after the first book, All My Friends Are Dead. It is funny! And just when you think they can't come up with anything new - they do!