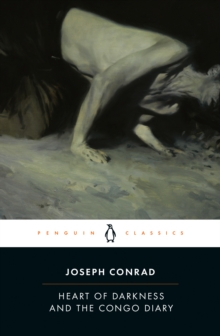 Heart of Darkness
Paperback
Description
A haunting and hugely influential Modernist masterpiece, the Penguin Classics edition of Joseph Conrad's Heart of Darkness is edited with an introduction by Owen Knowles. Conrad's narrator Marlow, a seaman and wanderer, recounts his physical and psychological journey in search of the infamous ivory trader Kurtz: dying, insane, and guilty of unspeakable atrocities.
Travelling upriver to the heart of the African continent, he gradually becomes obsessed by this enigmatic, wraith-like figure.
Marlow's discovery of how Kurtz has gained his position of power over the local people involves him in a radical questioning, not only of his own nature and values, but also those of western civilisation.
The inspiration for Francis Ford Coppola's Oscar-winning film Apocalypse Now, Heart of Darkness is a quintessentially modernist work exploring the limits of human experience and the nightmarish realities of imperialism. Part of a major series of new editions of Conrad's most famous works in Penguin Classics, this volume contains Conrad's Congo Diary, a chronology, further reading, notes, a map of the Congo, a glossary and an introduction discussing the author's experiences in Africa, the narrative and symbolic complexities of Heart of Darkness and critical responses to the novel. Joseph Conrad (1857-1924) was born in the Ukraine and grew up under Tsarist autocracy.
After spending years in the French, and later the British Merchant Navy, Conrad left the sea to devote himself to writing.
In 1896 he settled in Kent, where he produced within fifteen years such modern classics as Youth, Heart of Darkness, Lord Jim, Typhoon, Nostromo, The Secret Agent and Under Western Eyes. If you enjoyed Heart of Darkness, you might like E.M.
Forster's A Passage to India, also available in Penguin Classics. 'Seems to reach into the heart of Conrad himself' Peter Ackroyd
Information
Format: Paperback
Pages: 192 pages
Publisher: Penguin Books Ltd
Publication Date: 02/08/2007
ISBN: 9780141441672
Other Formats
Paperback from £1.99
Hardback from £3.99
EPUB from £0.99
CD-Audio from £13.05
eAudiobook MP3 from £7.20
Free Home Delivery
on all orders
Pick up orders
from local bookshops
Reviews
Showing 1 - 4 of 4 reviews.
Review by theokester
16/06/2015
I'm somewhat torn. The <i>English Major</i> in me would really like to give this book a higher rating. The <i>reader</i> in me has a hard time doing so.I read this book back in High School and could honestly not remember anything about the plot, the reading or the discussions aside from the fact that the story was about some guy on a boat going deep into Africa and that I distinctly remembered struggling to stay awake while reading it.I thought that approaching it a second time as a <i>seasoned English Major</i> would result in a better perspective. Admittedly, I think I got more out of the plot this time and see much more depth and symbolism in the book...but I still found myself struggling to stay awake at times.What's sad is that this is not necessarily a slow paced or boring book. It's filled with exploration, political intrigue, violent deaths, savage attacks and other moments of suspense and tension. And yet, it is also filled with lengthy monologues on the nature of man and the perspectives of our narrator Marlow (who is actually a secondary narrator if you want to get technical, since he's telling the story to an unnamed narrator who appears very little in the book at all...a very strange setup).The <i>craft</i> or <i>structure</i> of this novel is intriguing and I suspect is a large reason why this is such a <i>classic</i>. As I mentioned briefly above, the narrative style is a little different. The "official" narrator of the book is an unnamed man sitting on a boat. However, the meat of the story is actually told by another man on the boat (Marlow) who is actually telling this story to our unnamed narrator. There are also segments where Marlow is re-telling something someone else said to him or something he read, thus leaving us three or four times removed from the <i>actual</i> events of the story. His spoken narrative is also sometimes a little disjointed and sometimes conversational as though he's lost his train of thought while telling the story or he's distracted or interrupted by something or someone on the ship with our actual narrator.The book is full of symbolism and allusion. It can definitely be taken as a commentary on many different aspects of Africa, colonialism, Imperialism, savagery, humanity, principles, beliefs, truths, and many other high level themes. However, the book doesn't seem to come up with any concrete answers about any of these and even leaves us in the <i>darkness</i> as to exactly which commentary we should be paying attention to. Truly, many social commentaries leave off just short of prescribing a plan of action, but they generally make their arguments fairly clear. In the case of <i>Heart of Darkness</i>, I feel like I came away more muddled than when I began. Yes, I acknowledge that oppression of so-called <i>savages</i> is not to be condoned, but I knew that ahead of time...and honestly, I'm not entirely sure that oppression is the core meaning of the novel.I appreciate that this novel has depth to it that I don't understand. It's definitely a difficult novel that's hard to truly access. It's high level plot and themes are intriguing, but I don't feel that they stand well enough on their own to warrant an outrageous following. In order to truly appreciate this book, I feel that it requires very in-depth study and discussion of weeks or months. Maybe I'm just looking for too much, and if that's the case, then my view of the book goes down even more. Maybe I'm just obtuse and missing the point, which means my review is unfortunately lower than it should be.Whatever the reason, I don't love this novel and don't anticipate reading it again. If somebody else reads it and loves it and wants to discuss it with me and turn me around, I'd gladly open a discussion, but for now, I stick by my rating.<b>***2.5 stars out of 5</b>
Review by CarolynSchroeder
16/06/2015
I ended up liking this book quite a bit but I almost wonder if its reputation isn't somewhat inflated (specifically regarding the subsequent adaptations such as Apocalypse Now) ~ I would not call it a masterpiece or even "great." But for a novella I will say, it packs a whallop, and it is beautifully written for the most part. Due to the tertiary stacking of narration (the unnamed narrator, then Marlow, then Kurtz at times), one has to read quite carefully to know when narrators switch and it's not always done gracefully. It is choppy at times. However, I got into the pulse of it. It is stunning to me that English is Conrad's third language (which he learned in his 20s) because some of the passages have a spare and eloquent beauty, evidencing a brilliant command of the written English word as per someone native to it. But the story and portrayal of the Congolese people, while sad, seems rather honest for that time ~ as a European of his day accurately stating what he thought, saw and experienced. My big, big complaint is that insipid ending (the fiance part), egads, seriously? That took it down a huge peg and ended up saying nothing about the symbolism and themes throughout the preceding events. It seemed, in one page to ridicule, or put down, the women of the time, as buffoonish simpletons. Ah well, overall a really interesting travel down the Congo during the violent, oppressive ivory trade and the "hearts of darkness" that lie within human beings, and the places they inhabit (by way of the Congo and Thames Rivers).
Review by Eyejaybee
16/06/2015
A marvellously written tale of sombre deeds in the Belgian Congo. I first read this novella about thirty years ago, having just seen "Apocalypse Now" in which the basic core of the story was transplanted to the Vietnam War, and re-reading it now I found it just as compelling and enthralling as the first time round.Essentially a parable with a similar message about the fallibility of our ostensibly civilised upbringing to Golding's "Lord of the Flies", this story is written with a hypnotic mastery of the language. Marlow's descriptions of the river leading to the heart of Africa are glorious, and the eventual encounter with Mister Kurtz, the colonial who has succumbed to the temptations of life in the bush where he is treated as a supernatural force is terrifying. "The horror, the horror" indeed!
Review by Ma_Washigeri
16/06/2015
Very powerful. I already want to keep going back and dipping in to odd pages. I shall have to look out for my own copy as this one is going back to the library. The odd thing is how contemporary it all sounds, I'm having trouble placing the book in 1899, and the introduction Joseph Conrad wrote in this copy was written in 1917, the year my Dad was born. Apparently it was serialised in a magazine when it first came out - just imagine how awful it would be to miss a chapter of this! And I've no firm idea of what Joseph Conrad meant by it all - there is such a complex texture of voices - the author, the narrator, Marlow. For now I shall keep dipping - and re-read it again in a few years.