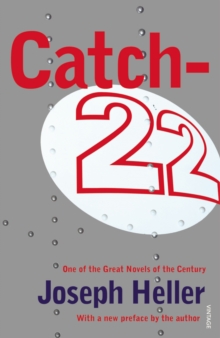 Description
With an introduction by Howard Jacobson. Explosive, subversive, wild and funny, 50 years on the novel's strength is undiminished.
Reading Joseph Heller's classic satire is nothing less than a rite of passage.
Set in the closing months of World War II in an American bomber squadron off the coast of Italy, Catch-22 is the story of a bombardier named Yossarian who is frantic and furious because thousands of people he has never even met keep trying to kill him.
Joseph Heller's bestselling novel is a hilarious and tragic satire on military madness, and the tale of one man's efforts to survive it.
Information
Format: Paperback
Pages: 528 pages
Publisher: Vintage Publishing
Publication Date: 01/10/1994
Category: Second World War fiction
ISBN: 9780099477310
Other Formats
Paperback from £8.59
Hardback from £10.19
EPUB from £4.49
Free Home Delivery
on all orders
Pick up orders
from local bookshops
Reviews
Showing 1 - 5 of 16 reviews.
Previous | Next
Review by alarra_c
16/06/2015
Very funny anti-war novel about the crazy things humans do to themselves and humanity.
Review by ablueidol
16/06/2015
I took several attempts to read this, and in the end only succeeded by skipping the first chapter. I would have missed reading one of the best anti-war books of its type. Read the stories and views of those who come back not those who are going to war. You get a true picture of the horror and boredom of war. MASH captured it for the Korean war and I wished that Robert Altman had made the catch 22 film as the one that was made was a bit of a turkey
Review by soylentgreen23
16/06/2015
Somebody, it is said, once remarked to Heller, "You'll never write another book as good as Catch-22." I think this was after his second novel came out, which wasn't, surprise surprise, as good as "Catch-22." This may or may not be true, but Heller's response was: "Neither will anybody else." He may have been right - as far as I can tell the book is perfect.
Review by feralchicken
16/06/2015
I don't find this sort of humour at all funny. Was a nightmare to read!!
Review by LibraryLou
16/06/2015
I think this is more of a man's book. I didn't dislike it but I found just when I was getting into the story the chapter ended and it didn't go back and tell me what happened about the bit I was just reading.