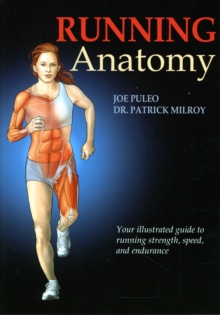 Running Anatomy
Paperback
Description
See what it takes to maximize running strength, speed, and endurance!
Running Anatomy will show you how to improve your performance by increasing muscular strength, optimizing the efficiency of your running motion, and minimizing your risk for injury. Running Anatomy features 50 of the most effective strength exercises for runners, each with clear, step-by-step descriptions and full-color anatomical illustrations highlighting the muscles in action.
But you'll find much more than exercises--you'll also see their results. Running Anatomy places you in the action, fundamentally linking each exercise to running performance.
You'll see how to strengthen muscles, reduce injury, and improve gait efficiency for faster times and more fluid runs. Running Anatomy will prepare you for any challenge that comes your way.
You'll find exercises for varying terrains and speeds, from hill running to off-road running and from sprints to marathons.
Plus you'll learn how to evaluate and rehabilitate the most common injuries that runners face, including lower-back pain, knee aches and strains, and torn muscles and tendons. Whether you're a fitness runner looking to conquer hills with more speed or strength or a competitive runner looking for that extra bit of performance and a finishing kick, Running Anatomy will ensure that you're ready to deliver your personal best.
Information
Format: Paperback
Pages: 200 pages, 186 Illustrations, color; 2 Halftones, color
Publisher: Human Kinetics Publishers
Publication Date: 15/12/2009
Category: Fitness & diet
ISBN: 9780736082303
Free Home Delivery
on all orders
Pick up orders
from local bookshops
Reviews
Showing 1 - 5 of 7 reviews.
Previous | Next
Review by wineisme
16/06/2015
This book will satisfy the recreational runner and competitive athlete, alike. It offers the reader a comprehensive approach to overall physical fitness and how it ties to the art of running. Anyone interested in learning more about strengthening to improve running capacity should certainly pick up this book. An occasional runner may not need to read the book cover to cover, but will definitely benefit from the tips, illustrations, and supportive exercises to improve running performance.We can all afford to learn a thing or two more about our bodies and how we move through space. Get this book. Read it. Then, get off the couch and go for a run!
Review by realbigcat
16/06/2015
It's tough to write something different about the sport of running. The beauty of this book is in the illustrations that rival some medical books. This is especially important in the sections on strength exercises. The illustrations are much better than any photos. From their impressive bios the authors Joe Puleo and Dr. Patrick Milroy are well qualified to write on the subject. Their message is that to improve your running you must gain specific muscular strength. Muscle inbalance is a problem and as they quote you are only as strong as your weakest link. Being a runner for more than 25 years and a veteren marathoner myself I didn't think I would find anything new but I did find the complete muscular skeletal system and how the bodys muscles works together very interesting. Any beginning runner would certianly benefit from all the exercises that are well illustrated and explained. Each exercise also explains how it specifically benefits running form.
Review by blakefraina
16/06/2015
I was super excited to get this one. I've been a somewhat serious runner since 1994, running moderate distances (anywhere from three to seven miles at a clip) and have recently returned to a regular running schedule after a six month hiatus. I figured a more technical text would give me the edge to improve my speed and distances. Unfortunately, this one is a bit <i>too</i> technical for my taste. While it does include a lot of weight training routines designed to build the muscles needed for strength, speed and general good running form, I feel as if I've seen all this information elsewhere - like Runner's World or Women's Fitness magazines. It's nice to have it all in one place, I suppose, but it feels a bit redundant to me. As far as the opening chapters of the book, this was where I kind of zoned out. I imagine a coach or seriously competitive runner might find a lot of really great stuff here, but I was having a difficult time concentrating on sections with titles like, "Results of the Training Progression Model," and "Event Specific Body Characteristics."I think this is a great resource for dedicated athletes interested in serious training, but I'm not really qualified to review it from that perspective. For a casual runner like myself, I'd recommend skipping the first third of the book, which is a bit intimidating, and focusing on the weight training information in the back, particularly the butt-kicking core and lower body workouts, which I've begun to incorporate into my new, tougher, regimen. Hopefully, this will be just the thing to get me back in top form.
Review by rybie2
16/06/2015
Running Anatomy offers a valuable reference work to anyone interested in running, ranging from beginners to serious athletes. Introductory chapters present basics of exercise physiology, performance training, and kinetics, and discuss various issues that affect running performance. However, the bulk of the book is devoted to 50 exercises designed to strengthen particular muscle groups. Here is where the book excels; the large color diagrams that accompany each exercise illustrate (using separate colors) the primary and secondary muscles trained by each. The exercises are not confined to lower limbs; on the contrary, they offer a full body workout, with separate ones devoted to upper torso, arms & shoulders, "core" (back and abdomen), upper legs, and lower legs & feet. Readers who are uncertain how particular regions of arms, upper torso, and abdomen constribute to running performance will find explanation under each exercise in special sections labelledd "Running Focus". The book also discusses running injuries and how to prevent them, as well as footwear and overall body conditioning. The text is clear and straightforward; the diagrams are beautifully rendered; and as a whole, the work is full of accurate and useful information. Newcomers to running will find this work an invaluable resource. Although experienced runners and readers of Runner's World may be familiar with much of the basic information, they will benefit from having all this information in one place, along with the 50 exercises presented herein.Running Anatomy is one of an extensive series of reference works published by Human Kinetics, which bills itself as "The Premier Publisher for Sports & Fitness". Others in the series focus include Swimming Anatomy, Cycling Anatomy, Dance Anatomy, Bodybuilding Anatomy, Yoga Anatomy, and others.
Review by ranaverde
16/06/2015
A deceptively simple book, Running Anatomy is a resource that all runners should have on their shelves. The premise of the book is that, in order to run most effectively, athletes should have a sense of how the body functions when running, and should partake in exercises designed to enhance the whole body. As such, it's not a book of running exercises, but rather exercises to be done with weights and resistance, either in a gym or at home. A non-runner would probably find them useful as well, as all of them are clearly illustrated (with the affected muscle groups highlighted) and most require at most minimal equipment. The book is well-illustrated, with drawings of anatomy and of runners of both genders (this is, in fact, one of the more balanced treatments of female athletes I've seen). Most of them are white, but there are a couple of runners that lend a small amount of diversity to the images.At the end of the book is a discussion about equipment - which pretty much just means shoes - but it contains something that I, as a casual minimalist runner, appreciate - a short mention of barefoot running, and the benefits of doing so. (Someone should tell the authors about Vibram's Five Fingers line, however.)The only thing that the book lacks is a good index. There is a list of exercises at the back of the book, but, speaking as an indexer-in-training, that's not at all the same thing.