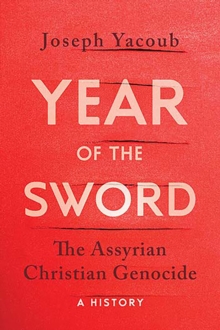 Year of the Sword : The Assyrian Christian Genocide -- A History
Hardback
Description
The Armenian genocide of 1915 has been well documented.
Much less known is the Turkish genocide of the Assyrian, Chaldean and Syriac peoples, which occurred simultaneously in their ancient homelands in and around ancient Mesopotamia -- now Turkey, Iran and Iraq.
The advent of the First World War gave the Young Turks and the Ottoman government the opportunity to exterminate the Assyrians in a series of massacres and atrocities inflicted on a people whose culture dates back millennia and whose language, Aramaic, was spoken by Jesus.
Systematic killings, looting, rape, kidnapping and deportations destroyed countless communities and created a vast refugee diaspora.
As many as 300,000 Assyro-Chaldean- Syriac people were murdered and a larger number forced into exile.
The 'Year of the Sword' (Seyfo) in 1915 was preceded over millennia by other attacks on the Assyrians and has been mirrored by recent events, not least the abuses committed by Islamic State.
Joseph Yacoub, whose family was murdered and dispersed, has gathered together a compelling range of eye-witness accounts and reports which cast light on this 'hidden genocide.' Passionate and yet authoritative in its research, his book reveals a little-known human and cultural tragedy.
A century after the Assyrian genocide, the fate of this Christian minority hangs in the balance.
Information
Format: Hardback
Pages: 256 pages
Publisher: C Hurst & Co Publishers Ltd
Publication Date: 13/10/2016
Category: Middle Eastern history
ISBN: 9781849046428
Free Home Delivery
on all orders
Pick up orders
from local bookshops