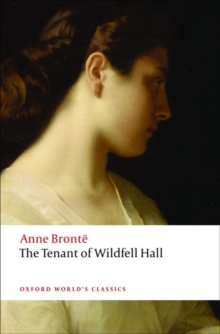 The Tenant of Wildfell Hall
Paperback
Description
'he looked up wistfully in my face, and gravely asked - "Mamma, why are you so wicked?"' The mysterious new tenant of Wildfell Hall has a dark secret. But as the captivated Gilbert Markham will discover, it is not the story circulating among local gossips. Living under an assumed name, 'Helen Graham' is the estranged wife of a dissolute rake, desperate to protect her son from his destructive influence.
Her diary entries reveal the shocking world of debauchery and cruelty from which she has fled.
Combining a sensational story of a man's physical and moral decline through alcohol, a study of marital breakdown, a disquisition on the care and upbringing of children, and a hard-hitting critique of the position of women in Victorian society, this passionate tale of betrayal is set within a stern moral framework tempered by Anne Bronte's optimistic belief in universal redemption.
Drawing on her first-hand experiences with her brother Branwell, Bronte's novel scandalized contemporary readers. It still retains its power to shock. ABOUT THE SERIES: For over 100 years Oxford World's Classics has made available the widest range of literature from around the globe. Each affordable volume reflects Oxford's commitment to scholarship, providing the most accurate text plus a wealth of other valuable features, including expert introductions by leading authorities, helpful notes to clarify the text, up-to-date bibliographies for further study, and much more.
Free Home Delivery
on all orders
Pick up orders
from local bookshops
Reviews
Showing 1 - 5 of 8 reviews.
Previous | Next
Review by greentea
16/06/2015
classic Bronte fare. Slow but good.
Review by citygirl
16/06/2015
SPOILERS!!!!Why: Heard it had interesting subject matter, especially for the times.There is a lot to say about this book: First, it is kind of macro-epistolary novel, if that makes any sense. Meaning that the entire book is one long letter. Yes, we've seen that before, but other really long letter books don't include dozens of other letters and a diary spanning several years. So, that was interesting and maybe strains credulity. On the other hand, they didn't have tvs.Second, the subject matter was controversial in the day. People were a bit affronted that someone would write in detail about an emotionally abusive marriage which included blatant sexual infidelity and depraved alcoholism, in a book which includes a scene in which a group of drunk men cheer on their comrade while he hits his wife. A book focused on a wife with the gumption to flout the law and run away with her kid. Weirdly enough, this story is wrapped in the context of a romance between the narrator and the protagonist.Third, if some readers (not me) think Jane Eyre is a moralizing prig, they ought to try out Helen Huntingdon for contrast. There had to be an average of 0.75 biblical quotes and/or allusions per page. But not just the Bible. I had one of those annotated copies, and in the beginning especially, I wanted to yell at Miss Bronte, Use your words! Surely you have some of your own! But that's harsh, because the book and the story is mostly hers and Overall, I found the book and enjoyable and enlightening read, and I would recommend it, even if it is...odd.
Review by readingwithtea
16/06/2015
TToWH has an unusual and intriguing structure – the outer layer is written as a string of letters from a man to his brother-in-law (daring, perhaps, on Anne Brontë's part, to assume the voice of a man?). Approximately halfway through, he quotes a diary written by the female protagonist over a number of years verbatim, for most of the rest of the book. The prose is also extraordinarily detailed in the first section – but the male narrator has already indicated that his will be a detailed missive.According to the endnotes in my Penguin Classics edition, Brontë's novel was a very early, if not the first, novel to deal with substance abuse among the upper classes. Clearly not one to shy away from controversial topics, she also touches on raising children and the worth of ambition. I don't know what is was that inspired Brontë to depict an unhappy marriage in such detail, but it is certainly credible – and goes one step further than merely describing the subject matter, demanding that the reader ask themselves what is right, what is permissible.There are the usual Austen-like illustrations of domesticity – the nuances of courtship, an amusing description of the pontificating vicar, the nature of English beauty (very different from that which is desired today!), repeated depictions of women as nosy gossips whose contribution to society from the kitchen is undervalued and really quite a lot about hair.An excellent book, just beating Mansfield Park to the place of "favourite book so far".
Review by Luli81
16/06/2015
Great surprise!Anne Brönte puts herself up to Charlotte's standards with this magnificent novel. It has everything a romantic classic ought to have and it's presented in a mysterious style in which you don't know what is going to happen until the final page.Highly recommended.
Review by Izzy1189
16/06/2015
This is my favourite of all the novels by any of the Bronte sisters. I love the realism and the fact that you can actually connect with the characters. Everyone who is a fan of the classics should read this.
Also in the Oxford World's Classics series | View all