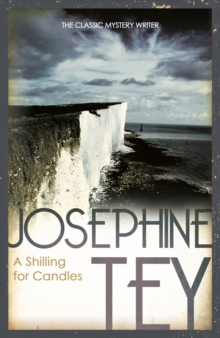 A Shilling for Candles
Paperback
Description
Beneath the sea cliffs of the south coast, suicides are a sad but common fact.
Yet even the hardened coastguard knows something is wrong when a beautiful young film actress is found lying dead on the beach one morning.
Inspector Grant has to take a more professional attitude: death by suicide, however common, has to have a motive - just like murder...
Information
Format: Paperback
Pages: 256 pages
Publisher: Cornerstone
Publication Date: 03/02/2011
Category: Crime & mystery
ISBN: 9780099556688
Other Formats
EPUB from £4.99
Hardback from £29.99
Free Home Delivery
on all orders
Pick up orders
from local bookshops
Reviews
Showing 1 - 3 of 3 reviews.
Review by DeltaQueen50
16/06/2015
Inspector Alan Grant is a professional first and foremost. He works his way through his cases and ultimately his legwork matched with his painstaking examination of the clues brings the guilty party to light. In A Shilling for Candles, he is discomforted by the realization that he has a "feeling" that the obvious murderer is innocent. A strange case of an actress found drowned that at first was looked upon as suicide but further examination resulted in a murderer being sought. All the clues are pointing toward the handsome stranger, Robert Tisdall. But with the help of his interesting assortment of witnesses, in particular, young Erica Burgoyne, the daughter of the local Chief Constable, Inspector Grant is eventually able to put the pieces together that make a perfect match and clear the mystery.While A Shilling For Candles doesn't provide edge-of-seat action, Josephine Tey does give us great characters, an intriguing mystery and delivers her story in a witty, engaging manner that makes this author a delight to read.
Review by Figgles
16/06/2015
A very enjoyable murder mystery featuring Josephine Tey's imaginative detective Inspector Alan Grant. The body of a young woman is found drowned in an area notorious for suicides, but nothing is as it seems. Once again the emphasis is on character rather than detection, though the solution is better incorporated into the story than in "The Man in the Queue". Lots of really diverting red herrings too! Recommended for fans of Ms Tey.
Review by Vivl
27/08/2015
Strange that I can't find a record of reading <i>The Man in the Queue</i> to compare the rating. Nevertheless, I am almost entirely certain, going on my memory which is shaky even though it wasn't <i>that</i> long ago, I'm sure, that I last reread the first of Tey's mysteries, that this is a significant leap forward in terms of the quality of writing. I was reminded how much I love Tey, and that I really mustn't leave it so long between rereads. She may not be quite at Dorothy L Sayer level of genius, but certainly ranks up there with Marsh (I don't care much for Christie, hence the omission.)Plot-wise, things could be a tad tighter, however that did not detract appreciably from my overall enjoyment. Particularly good was the characterisation: even fairly insignificant characters were effectively fleshed-out, and I particularly like Erica Burgoyne whose youthful eccentric charm was an utter delight.As an aside, I have just noticed that Hitchcock made a film extremely loosely based upon this novel in 1937 (<i>Young and Innocent</i> UK and <i>The Girl Was Young</i> US). I wonder what Tey thought of it? He completely changed the plot (including whodunnit), made Erica a beautiful young lady rather than a scruffy albeit spunky adolescent, and left out Inspector Grant! I'm sure it's a fine film, but <i>A Shilling for Candles</i> it ain't!