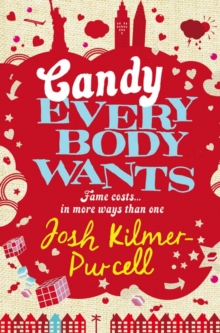 Candy Everybody Wants
Paperback
Description
Armistead Maupin meets Beautiful People in Josh Kilmer-Purcell's hilarious and yet poignant coming-of-age taleJayson Blocher is fifteen years old with a wayward mother, a disabled brother and a neighbour who thinks he's the spawn of the devil.For so long he has worshipped at the feet of popular culture, but now he wants to be part of it, and let's face it, what's to keep him in Wisconsin?
Even his own mother wants him to go.So Jayson heads off to find fame and fortune, accompanied by an ever-changing cast of quirky extended family members.From a New York escort agency to the glamour of a Hollywood situation comedy, Jayson searches for his destiny.
Only to find that being America's sweetheart can leave a very sour aftertaste.
Information
Format: Paperback
Pages: 320 pages
Publisher: HarperCollins Publishers
Publication Date: 28/05/2009
ISBN: 9780007301645
Free Home Delivery
on all orders
Pick up orders
from local bookshops
Reviews
Showing 1 - 2 of 2 reviews.
Review by dudara
16/06/2015
Candy Everybody Wants is a light-hearted and easy-t0-read book, set nostalgically in the early 1980s. Jayson (with a distinctive "y") Blocher wants to be on T.V. He wants to be really famous. The only problem, he lives in Wisconsin where he films his own soap operas using an old video recorder with a separate tape recorder for sound. Oh, and he's gay, with a somewhat dysfunctional set of family and friends.When events in his home town don't end well, Jayson finds himself in New York, where he sets himself firmly on the path to fame. However, things aren't quite that easy, and Jayson has to learn to come to terms with himself and his family.The book is an easy read and makes a perfect flight or beach read. It is quite funny at times, but has the overall lightweight feel of candyfloss. There's something to watch with this author - he clearly has a flair and wit (well, he was a very famous drag queen).
Review by presto
16/06/2015
Jayson, with a Y for effect, declares himself gay at the age of five, while still at school he is filming his own soap, a cross between Dynasty and Dallas, with the next door twins, Tara and Trey, playing the roles Jayson himself is not. Jayson's family can at best be described as disfunctioanl, his neurotic mother has been married so many times he has no idea who his father is. His younger brother suffers with Prader-Willi syndrome, at it is Jayson who maintains some control over his eating.But Jayson has a dream, to be a famous actor, and despite his disadvantaged background it seems he just might make it, but there are many pitfalls on the way. Jayson also has something to learn about his priorities and human relationships.This is without question and immensely funny story peopled with a diverse range of characters from a retired actor running an escort agency with chorus boys as the escorts, to an outspoken and frequently drunk ageing actress; and includes a cute and famous boy actor, a fanatically religious mother and a too butch trainee policewoman. Jayson is an appealing young boy who can be a little too full of himself initially (all part of the desire to be in front of an audience), but he learns a few lessons over the duration of the story and comes out a better person for it. Despite occasional weaknesses in the prose, Candy Everybody Wants is delightful and very entertaining read.