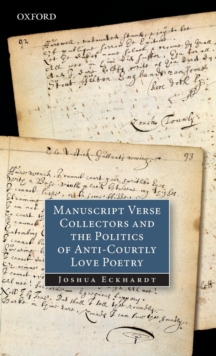 Manuscript Verse Collectors and the Politics of Anti-Courtly Love Poetry
Hardback
Description
This book reappraises the work of early-seventeenth-century collectors of English Renaissance poetry in manuscript.
The verse miscellanies, or poetry anthologies, of these collectors have long attracted the attention of literary editors looking for texts by individual, major authors, and they have more recently interested historians for their poems on affairs of state, called verse libels.
By contrast, this book investigates the relationships that the compilers ofmiscellanies established between such presumably literary and political texts.
It focuses on two of the most popular, and least printable, literary genres that they collected: libels, and anti-courtly love poetry, a literary mode that the collectors of John Donne's poems played a major role inestablishing.
They made Donne the most popular poet in manuscripts of the period, and they demonstrated a special affinity for his most erotic or obscene poems, such as 'To his Mistress going to bed' and 'The Anagram'.
Donne collectors also exhibited the similarities between these Ovidian love elegies and the sexually explicit or counter-Petrarchan verse of other authors, thereby organizing a literary genre opposed to the conventions of courtly love lyrics.
Furthermore, collectors politicizedthis genre by relating examples of it to libels.
In so doing, manuscript verse collectors demonstrated a type of literary and political activity distinct from that of authors, stationers, and readers.
Based on a thorough investigation of manuscript verse miscellanies, the book appeals to scholars andstudents of early modern English literature and history, Donne studies, manuscript studies, and the history of the book.
Free Home Delivery
on all orders
Pick up orders
from local bookshops