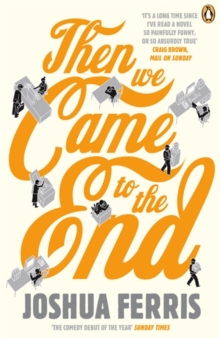 Then We Came to the End
Paperback
Description
Joshua Ferris's Then We Came to the End is one of the most acutely observed, dazzling American debuts of recent years.They spend their days - and too many of their nights - at work.
Away from friends and family, they share a stretch of stained carpet with a group of strangers they call colleagues. There's Chris Yop, clinging to his ergonomic chair; Lynn Mason, the boss, whose breast cancer everyone pretends not to talk about; Carl Garbedian, secretly taking someone else's medication; Marcia Dwyer, whose hair is stuck in the eighties; and Benny, who's just - well, just Benny.
Amidst the boredom, redundancies, water cooler moments, meetings, flirtations and pure rage, life is happening, to their great surprise, all around them.
Then We Came to the End is about sitting all morning next to someone you cross the road to avoid at lunch.
It's the story of your life and mine.'Very funny, intense and exhilarating . . . For the first time in fiction, it has truly captured the way we work' The Times'As dazzling as Franzen's The Corrections and as confident as Tartt's The Secret History . . . Exceptional, very funny' Daily Telegraph'Slick, sophisticated and very funny, Ferris's cracking debut has modern Everyman fighting for his identity in an increasingly impersonal world' Daily MailJoshua Ferris was born in Illinois in 1974.
He is the author of Then We Came to the End (2007), which was nominated for the National Book Award and longlisted for the Guardian First Book Award, and the highly acclaimedThe Unnamed.
In 2010 he was selected for the New Yorker's prestigious '20 under 40' list.
To Rise Again at a Decent Hour was longlisted for the Man Booker Prize 2014 and the Dylan Thomas Prize 2014.
He lives in New York.
Information
Format: Paperback
Pages: 400 pages
Publisher: Penguin Books Ltd
Publication Date: 04/01/2008
ISBN: 9780141027630
Free Home Delivery
on all orders
Pick up orders
from local bookshops
Reviews
Showing 1 - 5 of 14 reviews.
Previous | Next
Review by phoebesmum
16/06/2015
I enjoyed this very much, and honestly couldn't tell you why. It's 380 pages of (American) office life, in the course of which nothing much happens – colleagues of the anonymous first person plural narrator get laid off one by one, there is much shuffling around of office chairs, people gather in cubicles to talk, the blank page is feared … somehow it slips away quickly and easily. The publishers haven't done it any favour by plugging it as 'hilarious' – it's not – but it has a similar sense of the everyday absurd to Catch-22.
Review by JonArnold
16/06/2015
Ferris' debut is a slightly less absurd version of The Office – it's about the mundanity of working life and the strategies we use to cope. With the economic downturn in 2008 this was well-timed – the whole book's permeated by the low level of dread driven by the threat of redundancy and people waiting for their turn to get the bullet. The characterisation is genuinely excellent – characters do tend to conform to general roles but they have more than enough detail to not be simple stereotypes. Appropriately enough the story is driven by the boss. Ferris draws the parallel with the boss being the organisation, with it falling apart much as her health does. The finale of the book is a genuinely touching one, the working equivalent of a school reunion. The fates of characters aren't tied to morality, instead acknowledging the randomness of life. It's genuinely touching, and given that a modern career is no generally no longer tied to one workplace for life, it's got a resonant bittersweet element. Full marks for the unusual narrative voice, which seems an omniscient gestalt of the workers. It's the equivalent of the ostensible documentary maker that provides the framing device in (that show again) The Office. Ferris might be drawing from the same source of inspiration as Gervais but he's created something quite different but equally as touching.
Review by hazelk
16/06/2015
I wanted to read this book after seeing a review by Nick Hornby.The scenario interested me in that not many authors set their novels in the places so many occupy for hours on end - the office.The trouble was that although the observational skill of the author was good as he turned on his eye on the doings and personalities that roamed the floors I started to get a bit fidgetty : I think I needed more of a focal point and even 'story'. I'll have to give it another go sometime as I gave up before half way through.
Review by amydross
16/06/2015
The whole time I was reading this book, people kept asking me what I thought of it, and each time I said, "Well, I'm not sure, really. But I'm still reading it, so I guess it must be pretty good so far." There were a lot of things about this book that made me nervous: Would the first person plural narration eventually become tiresome? Would the office-drone characters begin to grate as much as their real-life counterparts generally do? Would the book ever develop into anything more than a mildly amusing collection of water-cooler anecdotes?It took me until the very last pages to form a solid opinion on this book. Then I came to the end, and suddenly I realized that nearly every aspect of the book, even the things that had worried me, was pitch-perfect.p.s. there's cancer in this book, and it's sad.
Review by dudara
16/06/2015
What do a bunch of workers in a post-dotcom boom advertising agency talk about or think about? With the threat of redundancy constantly looming, this book describes the creative escapades and personalities of bored workers in the modern office.I must say that I didn't particularly like a lot of this book. It reminded me painfully of Douglas Coupland's Microserfs and jPod. Maybe the slow descriptions of mundane events is meant to evoke the triteness and banality of the office life. It certainly nearly made me give up on the book.However, as the book turns towards the story of Lynn, a partner in the advertising agency, who is struggling to come to terms with breast cancer, we find some merit and humanity in this story. Her employees are both fascinated and sympathetic towards her and it becomes important to the reader to find out what happens.Overall, I ended up somewhat liking the novel instead of hating it. If you want to experience a commentary on the stupidity of modern cubicle culture, you'd be better off buying a Dilbert book.