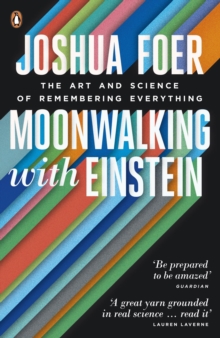 Moonwalking with Einstein : The Art and Science of Remembering Everything
Paperback
Description
Joshua Foer's Moonwalking with Einstein is an astonishing journey through the mind, and secrets of how our memory really works.
Can anyone get a perfect memory? Joshua Foer used to be like most of us, forgetting phone numbers and mislaying keys.
Then he learnt the art of memory training, discovering the mnemonic ancient 'memory palace' technique first practiced by Simonides of Ceos over 2,500 years ago. And only year later, Foer found himself in the finals of the US Memory Championships, alongside 'mental athletes' who could memorise the precise order of ten shuffled decks of cards in under an hour.
From the man who can recall nine thousand books to another who constantly forgets who he is, from the ancient world to the cutting edge of neuroscience, Joshua Foer discovers a truth we often forget: that memory is the key to everything we are. 'Passionate and deeply engrossing ... The more we challenge ourselves, the greater our capacity.
It's a fact that every teacher, parent and student would do well to learn.
The lesson is unforgettable' Washington Post 'Captivating ...
Engaging ... Mr. Foer writes in these pages with fresh enthusiasm. His narrative is smart and funny' Michiko Kakutani, New York Times 'Delightful...empathetic, thought-provoking and...memorable' Elizabeth Pisani, Prospect 'An endearingly geeky world ... witty and revelatory' Oliver Burkeman, Guardian 'A charming book ... interwoven with informed exposition about the psychological science of memory' Professor Larry R Squire, Nature'Great fun and hugely readable' Mark Turner, Independent Joshua Foer studied evolutionary biology at Yale University and is now a freelance science journalist, writing for National Geographic and The New York Times among others.
Researching an article on the US Memory Championships, Foer became intrigued by the potential of his own memory.
After just one year of training, he won the following year's Championship.
Information
Format: Paperback
Pages: 320 pages
Publisher: Penguin Books Ltd
Publication Date: 01/02/2012
Category: Cognitivism, cognitive theory
ISBN: 9780141032139
Other Formats
EPUB from £5.49
eAudiobook MP3 from £8.00
Free Home Delivery
on all orders
Pick up orders
from local bookshops
Reviews
Showing 1 - 1 of 1 reviews.
Review by Steve55
16/06/2015
This is a witty, beautifully well written exploration of both the art and the science of memory; part diary, part scientific study.Joshua Foer, a budding journalist reporting on the rather haphazard American Memory Championships, finds himself becoming intrigued by the exploits of a small band of 'mind athletes'. Annually they test themselves in a series of memory challenges to, for example recall the sequence of packs of cards, random strings of words or numbers and other oddball feats of remembering.The book charts a year in which Joshua transitions from reporting on the event to learning the secrets of memory techniques to a level where he himself can compete.The book captures the discoveries and achievements of this year with chapters which alternately serve as a diary and a text book outlining the history of the role, nature and purpose of memory and the efforts of science and art to illuminate and understand this most important of human abilities.Along the way Joshua explores the medical case histories of nature's memory superstars and falterers, for example those impaired through accident or illness, and the glimpses they give into the process of memory. The book is full of interesting asides, for example the descriptions of the earliest books, the first means of recording memory outside the mind, gave me new insights into the development of writing. It seems these earliest of books were created almost as music scores detailing the sounds to be made as they were read aloud.Incidentally the intriguing book title is a reference to one of the memory techniques that Joshua learns in preparation for his attempt at the American memory Championships, a technique that utilises the ability to recall pictures far more effectively than words or numbers.This book will entertain and educate and no doubt inspire. I highly recommend it.