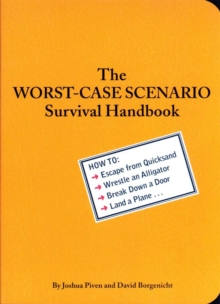 The Worst-case Scenario
Paperback
Description
Danger! It lurks at every corner. Volcanoes. Sharks. Quicksand. Terrorists. The pilot of the plane blacks out and it's up to you to land the jet.
What do you do? "The Worst-Case Scenario Survival Handbook" is here to help: jam-packed with how-to, hands-on, step-by-step, illustrated instructions on everything you need to know FAST-from defusing a bomb to delivering a baby in the back of a cab.
Providing frightening and funny real information in the best-selling tradition of the "Paranoid's Pocket Guide" and "Hypochondriac's Handbook, " this indispensable, indestructible pocket-sized guide is the definitive handbook for those times when life takes a sudden turn for the worse.
The essential companion for a perilous age. Because you never know...
Information
Format: Paperback
Pages: 192 pages, illustrations
Publisher: Chronicle Books
Publication Date: 01/04/1996
Category: Self-help & personal development
ISBN: 9780811825559
Other Formats
Paperback from £7.69
EPUB from £7.55
Free Home Delivery
on all orders
Pick up orders
from local bookshops
Reviews
Showing 1 - 5 of 9 reviews.
Previous | Next
Review by tripleblessings
16/06/2015
This one does contain some useful information, but is mostly written for entertainment. More silly than helpful.
Review by MerryMary
16/06/2015
I don't anticipate running into an alligator in Nebraska (although you never know!), but there are a number of things in here that are surprisingly useful.
Review by bkleinwort
16/06/2015
Entertaining, but I'm sad it became so popular and spawned a ton of spin-offs.
Review by HoraceSPatoot
16/06/2015
I agree with bkleinwort -- the spin-offs degrade the original.I think this is a very entertaining little book. It's fun to read, and unlike other books of the type it cites credible references for the advice given. It is certainly not complete enough to be a "survival handbook" -- I'm sure that's intended as a joke -- but apart from the select pieces of practical advice it offers, I like the fact that it encourages a person to think about what could go wrong in a given situation. This book will be more likely to save your life if it causes you to remember where the fire exits are when you enter a room than by telling you how to kick a shark in the nose. (Unless you're like my nephew!)
Review by Sandydog1
16/06/2015
I'm feeling pretty smug that I already have a pretty good idea of how to escape from a sinking car, quicksand, treat a snake bite, survive a shipwreck, deal with a bear or cougar, avoid getting shot at (run away as quickly as possible - it actually says that). I chose not to study the section on landing an airplane. It sounded easier-said-than-done. A very short, somewhat amusing (without trying to be) book.