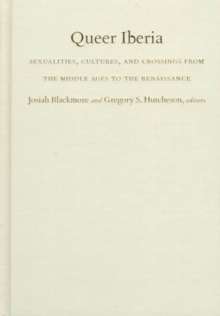 Queer Iberia : Sexualities, Cultures, and Crossings from the Middle Ages to the Renaissance
Hardback
Part of the Series Q series
Description
Martyred saints, Moors, Jews, viragoes, hermaphrodites, sodomites, kings, queens, and cross-dressers comprise the fascinating mosaic of historical and imaginative figures unearthed in Queer Iberia.
The essays in this volume describe and analyze the sexual diversity that proliferated during the period between the tenth and the sixteenth centuries when political hegemony in the region passed from Muslim to Christian hands. To show how sexual otherness is most evident at points of cultural conflict, the contributors use a variety of methodologies and perspectives and consider source materials that originated in Castilian, Latin, Arabic, Catalan, and Galician-Portuguese.
Covering topics from the martydom of Pelagius to the exploits of the transgendered Catalina de Erauso, this volume is the first to provide a comprehensive historical examination of the relations among race, gender, sexuality, nation-building, colonialism, and imperial expansion in medieval and early modern Iberia.
Some essays consider archival evidence of sexual otherness or evaluate the use of "deviance" as a marker for cultural and racial difference, while others explore both male and female homoeroticism as literary-aesthetic discourse or attempt to open up canonical texts to alternative readings.
Positing a queerness intrinsic to Iberia's historical process and cultural identity, Queer Iberia will challenge the field of Iberian studies while appealing to scholars of medieval, cultural, Hispanic, gender, and gay and lesbian studies.Contributors.
Josiah Blackmore, Linde M. Brocato, Catherine Brown, Israel Burshatin, Daniel Eisenberg, E.
Michael Gerli, Roberto J. Gonzalez-Casanovas, Gregory S. Hutcheson, Mark D. Jordan, Sara Lipton, Benjamin Liu, Mary Elizabeth Perry, Michael Solomon, Louise O.
Vasvari, Barbara Weissberger
Information
Format: Hardback
Pages: 488 pages, 3 illustrations, 1 table
Publisher: Duke University Press
Publication Date: 12/08/1999
Category: Social & cultural history
ISBN: 9780822323266
Free Home Delivery
on all orders
Pick up orders
from local bookshops