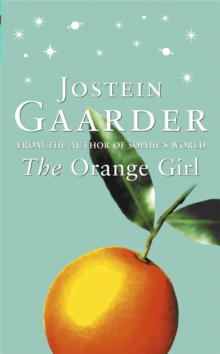 The Orange Girl
Paperback
Description
From the author of SOPHIE'S WORLD, a modern fairy tale with a philosophical twist.'My father died eleven years ago.
I was only four then. I never thought I'd hear from him again, but now we're writing a book together'To Georg Roed, his father is no more than a shadow, a distant memory.
But then one day his grandmother discovers some pages stuffed into the lining of an old red pushchair.
The pages are a letter to Georg, written just before his father died, and a story, 'The Orange Girl'.
But 'The Orange Girl' is no ordinary story - it is a riddle from the past and centres around an incident in his father's youth.
One day he boarded a tram and was captivated by a beautiful girl standing in the aisle, clutching a huge paper bag of luscious-looking oranges.
Suddenly the tram gave a jolt and he stumbled forward, sending the oranges flying in all directions.
The girl simply hopped off the tram leaving Georg's father with arms full of oranges. Now, from beyond the grave, he is asking his son to help him finally solve the puzzle of her identity.
Information
Format: Paperback
Pages: 160 pages
Publisher: Orion Publishing Co
Publication Date: 07/07/2005
ISBN: 9780753819920
Free Home Delivery
on all orders
Pick up orders
from local bookshops
Reviews
Showing 1 - 5 of 6 reviews.
Previous | Next
Review by kakadoo202
16/06/2015
a story in a story, unusual, not preticable
Review by lilywren
16/06/2015
Well, it has been many years since I read a book, cover to cover, over the course of a day or two. The Orange Girl has restored my faith in my ability to do just this. I have found that every book I have read of Gaarder's has held me captivated and I love the way in which not one word is wasted nor is it skimmed over (on my part!). This book is no exception.The Orange Girl's main focus is on Georg, his deceased father and his father's love and obsession with the 'Orange Girl'. Georg's father died when he was nearly 4 and 11 years later he his handed a large, unopened envelope from his grandmother. The envelope holds his father's story of the Orange Girl. Written just before his death, Georg's father writes to the 'older' Georg about the girl and the events leading up to them meeting. On receiving the envelope, Georg hides himself away for an evening to read the story.Gaarder brings his wonderful use of a 'story within story' in to play. We are with Georg all the way as he reads his father's tale and we also witness Georg's feelings and views throughout the book. We are, in effect, seeing Georg growing up in the course of a few hours. We are able to see him getting to know a father who died long before he was old enough to get to know him in life.It was within the early part of the book I felt I had discovered the 'mystery', however, this did not make the book any less enchanting. In fact it made the story all the more bittersweet, poignant and touching. I found the Orange Girl to be a wonderful book about love, loss, life and making the most of what you have before it has gone. Often with Gaarder's books I find that I stop myself for a few minutes, remove myself from the daily drudgery of work, bed, work, and see life for what it is! Precious, short and not to be spent being too serious about things for any length of time! The Orange Girl made me do this once again, even if for a short time, before the world of work, stress and earning money beckons!
Review by GRATIELLA
16/06/2015
Does Sophie's World ring a bell? If you have Sophie's inquisitive mind who loved the mind twisting riddles and brain bugging mysteries of the philosopher surely love another bestseller of Mr. Jostein Gaarder, "The Orange Girl". The Norwegian author originally entitled the novel "Appelsinpiken" and hit the bookshelves in 2003. Right now, it is translated in over 40 languages and still selling worldwide. The story began one winter day, Goerg Roed arrived from school and her grandparents and mom and stepdad were sitting in the living room waiting for him. He thought of things he might have done wrong but there was none. His grandmother said that she found an envelope on the red push chair Georg used to walk on when he was still a kid. Jorgen, Georg's stepfather, being modest, he have to be there even it doesn't concerns him. The envelope was addressed to Georg and it was from his father. The thought really bogged him for his father died eleven years ago and now he received a big envelope from him. He doubted that it was just a practical joke to make him know his father. He went straight to his room and locked himself in and began to read. It all started one day, Jan Olav a medical student waiting for the tram to arrive. Lost in his own thoughts, he suddenly noticed a young girl carrying a big bagful of luscious orange. He stared at her for so long that the girl noticed him staring and gave a coy smile. As he was intermittently gazing at her, the tram gave a jolt and swayed so the first thing that came to his mind was the orange girl might trip for she was small for the big bag she's carrying. Jan Olav made his way to the orange girl and in a split second, his one arm around the girl's waist and the other was holding the bag; the oranges fell all over the floor and on people's laps. Few people chuckled for they thought he made the oranges fly over everywhere. As he was about to give the oranges back to the girl he felt so embarrassed and that the girl got angry. The tram halted and the orange girl disappeared into the crowd. Jan Olav felt so ashamed and decided that he should see the orange girl again to make amends. It became a habit for Jan Olav that when he's in the tram he scans the crowd for the orange girl and he began to take strolls around the area just to get a glimpse of the orange girl. Days, weeks and months passed by and orange girl did not appear. Then one day, as he was meeting with his friend in medical school in a café, he caught sight of the orange girl sitting alone and flicking through a book with colorful illustrations. Maybe she did not notice him observing her but she raised her head and looked straightly at Jan Olav's eyes and smiled. Without hesitation he rose from his seat and sat with the orange girl. They did not talk, they just looked into each other's eyes and it seemed like they understand each other. Jan Olav put his hand on the table and the orange girl held his hand. Surprisingly, Jan Olav felt a sudden rush of adrenaline and gasped; "You're a squirrel!" She just smiled, looked deep into Jan Olav's excited eyes and left with tears in her eyes. Being so mystified and captivated by the orange girl, Jan Olav thought, how come she always carries a bagful of oranges with her whenever she appears. His search for the orange girl became like a routine and it made him even more interested. Then, as one of his strolls, Jan Olav passed through the marketplace; there he saw the orange girl in the same anorak (coat) she always been filling her bag with succulent oranges. She scrutinizes each sphere of the oranges she picks and puts it in her bag. After filling her bag, she left and Jan Olav followed her to say hi but to his dismay the orange girl hopped into a white Toyota and from the looks of it, the orange girl was with someone – her lover perhaps. Many things ran into Jan Olav's mind but the thoughts did not stop from looking for the orange girl again. As Christmas time approached, being alone in the cold country, Jan Olav paid a visit to the cathedral to hear mass. He thought of the orange girl but did not pay attention to it, but as he looked across the aisle just as the choir sang a Christmas carol, there she is, the orange girl. She was not wearing her usual anorak and she's not carrying a bag of oranges with her. After the mass, they caught up with each other and greeted each other a merry Christmas. For the first time, they made a real conversation. Jan Olav asked if she was going to Greenland with someone and what's with the oranges. She gave a 'aha!' smile and remembered the man who bumped her in the train. He wanted to make up for all the oranges but she refused and finds it sweet anyway. They walked side by side until they reached where the orange girl is supposed to hail a cab. Then they faced each other; 'When can we see each other again?' Jan Olav asked longingly as he had waited for this for a long time and doesn't want it to end. 'How long can you wait?' the orange girl asked with a doubtful tone. Jan Olav searched for answer in his head and replied 'I can wait until my heart bleeds with sorrow'. The orange girl looked at him and with a hopeful voice, 'It would be good if you could wait a little longer'. He asked for how long and she informed him that he has to wait for six months and if he succeeds they can be together everyday for the next six months. After that meeting, he did not make any attempt on finding the orange girl, he has to succeed. But one day, he received a lovely postcard depicting an orange courtyard and he turned it; 'I've been thinking of you. Can you wait a little longer?' His heart suddenly wanted to explode with so much euphoria. He leave from school for a few days borrowed money from his parents and flew to where his orange girl might be. He visited the orange courtyard that was in the postcard and strolled down the plaza and settled to a café. As he was scanning the people, different faces, he has longed to be with her again and there she is her smile that could melt the entire world standing with a bearded man. As a pang of dismay ran over his body, the man noticed him and clutched the orange girl's arm. Then she saw him, and that bright so delicate, lovely face made her way to where he is. After some catching up, the orange girl tried to remind Jan Olav who she really is. She said, that they live in the same street, they went to the same school when they were young and that they were together everyday back then. Jan Olav, in a matter of seconds, he looked shock and a gash of memories came running to his brain. He remembered, the girl who he used to play with in his youth -- Veronika. She left with her family when they were just seven or eight and never seen each other again after. Then all his shame and awkwardness escaped from his system and they exchanged stories from where they stopped seeing each other. Veronika is a painter and the oranges she used to carry was 'models' she used to practice on since orange was the national fruit where she's studying. Then from there, they lived together in an apartment and finished her course in a span of six months. They went back to their hometown and been together since then. They loved gardening and nature seems to connect with them. They got married, Jan Olav became a doctor and then Georg came into their lives. But just as their wonderful gift from above came, Jan Olav diagnosed himself and asked a colleague who agreed with his diagnosis that he has a progressive disease. Leaving Georg and the orange girl was a complete catastrophe in his family life and he loved them so much but nature calls and he can't back off. The letter Georg Roed, the child who received the large envelope was the same Georg Jan Olav and the orange girl had as a sign of their love. Jan Olav wrote the letter about the orange girl to Georg to tell him just one important thing and try to understand; "Don't tell me that nature isn't a miracle. Don't tell me the world isn't a fairytale. Anyone who hasn't realized that may never understand until the fairytale is just about to end. Then there is one final chance to tear off the blinkers, a last chance to rub your eyes in amazement, a final opportunity to abandon yourself to the wonder you are bidding farewell to and leaving". By this, I leave it to the readers to decide if this hell-of-a-book is not a must-read. Arrivedercci!
Review by scarletsparks
16/06/2015
A 15-year-old boy received a letter addressed to him from his father who had died 11 years ago. And they ended up writing this book together. This is a book telling a story in a quite original way. It's both interesting and boring. I lost my enthusiasm and interest sometimes along the way because of the father's long talk, but in general this is a nice book. It made me cry a bit here and there too, bringing back the memories of my lost dad and what we did together. There's this bit about his mother being his father's true love, but it remained unclear whether he was even her true love. At some points I found the book boring, I had to force myself a few times to read on. But at some other points I found it totally heart-wrenching, squeezing tears from my eyes. There are two visible teardrops that I unintentionally let onto the pages. I can't really put my fingers on how I feel about this book, so I guess I like it. I picked it up because I've read Sophie's World by this very same author and love the said book so much. I guess The Orange Girl isn't bad, but it's not excellent either. It's just nice.
Review by alyslinn
16/06/2015
Thought-provoking, charming, and very much Jostein Gaarder.