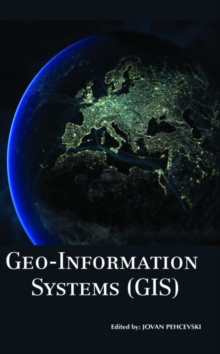 Geo-Information Systems (GIS)
Hardback
Description
Geographic Information System (GIS) technology is used for collecting, storing, updating, processing, analyzing and displaying of spatial and other related data.
A GIS system consists of organized and trained professionals, technical equipment, program support (software) and data.
Although the beginnings of GIS development can be traced back to 30 years ago, the real boom was experienced in the last decade when it started to be massively used in remote research, military applications, surveying, geology, forestry, urban planning, local government, environment protection etc.
We can certainly speak of a worldwide trend in the collection of spatial data and their transfer into a GIS system.
The potential advantages of GIS over the conventional databases (or CAD) are numerous and can be divided into three main groups:Data visualizationLinking geographic and attribute (textual) featuresThe opportunity for interdisciplinary decision-making. GIS technology provides a framework for integration of information in a way that it helps us understand and address some of the major problems encountered in today's civilization, such as rapid urbanization, overpopulation, environmental and climatic disturbances, and natural disasters.
Geographic information systems also help us organize the data related to these issues and understand their spatial association, thus providing a basis for making timely and intelligent decisions. GIS is also used for the design and development of digital spatial databases, for conducting spatial analysis, for creating maps and for reports generation.
GIS applications can be utilized by combining multiple levels of thematic data in one level in order to discover connections between them.
This edition covers several topics related to geographic information systems, and it also describes applications of GIS in the hazard assessment and prevention, in the environmental area (nature preservation), as well as in society and urban domains. Section 1 focuses on technical aspects of GIS systems, describing development of Web geographic information systems with the NDT methodology; mapping spatial data on the Web using free and open-source tools; how to measure geographic information systems success; and using raster and vector integration for fuzzy vector information representation.
Section 2 focuses on application of GIS in hazard prevention and assessment, describing flood forecasting GIS for water-flow visualization enhancement; integrated GIS, remote sensing and survey data for damage assessment of buildings; geographic information for emergency response by using an earthquake prototype; GIS data-driven method for early assessment of wetlands; and remote sensing data and GIS tools for accurate mapping of flooded area.
Section 3 focuses on application of GIS in the environment and nature preservation, describing GIS applied to integrated coastal zone and ocean management; GIS applied to the hydro-geologic characterization using examples of Mancha oriental aquifer; effects of population density and land management on the intensity of urban heat islands; developing a web-based water distribution geospatial information system for Nairobi northern region; and contributions of the GIS in the study of the landscape morphogenesis of the area Goulmima-Errachidia.
Section 4 focuses on application of GIS in society and urban systems, describing remote scheduling system for drip irrigation system using a geographic information system; Geo-Amazonas, which is a GIS for water resources management; accessibility analysis of healthcare delivery system within Enugu urban area using a geographic information system; and spatiotemporal analysis of urban sprawl and its contributions to climate and environment of Peshawar using GIS.
Information
Format: Hardback
Pages: 275 pages
Publisher: Arcler Education Inc
Publication Date: 01/11/2017
ISBN: 9781773610801
Free Home Delivery
on all orders
Pick up orders
from local bookshops