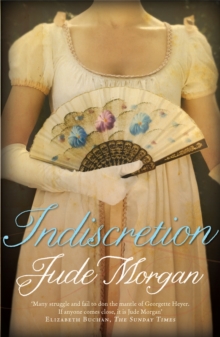 Description
A deliciously entertaining novel of Austenesque love and misunderstanding, from the master of Regency fiction. When Caroline Fortune's prodigal father loses all they possess, he arranges for his daughter to become the companion of the formidable (but extremely wealthy and childless) Mrs Catling.
Although uncomfortable with the plan Caroline resolves to make the most of this introduction to polite society, and her beauty and intelligence soon attract many admirers.
But, much to her dismay, she is just as quick to realise that love and romance are not what some 'gentlemen' seek and finds herself unjustly implicated in their indiscretions.
Exasperated by her predicament can Miss Fortune retain her reputation without losing her head? And will she discover that there is at least one good man who is more than willing to take her side and, indeed, her fancy?
Information
Format: Paperback
Pages: 448 pages
Publisher: Headline Publishing Group
Publication Date: 02/01/2006
Category: Historical fiction
ISBN: 9780755307654
Free Home Delivery
on all orders
Pick up orders
from local bookshops
Reviews
Showing 1 - 2 of 2 reviews.
Review by Luli81
16/06/2015
What an enchanting reading!This is a good choice for those who love Victorian novels, and even more because of its easy prose and its witty dialogues which keep you turning pare after page and with a smile playing on your lips at the end of each chapter.The heroine, Miss Fortune (yes, that subtle irony...), coming from a doubtful background, is a smart and strong-minded but flirtatious girl who has to make her own way in Society leaving some of her acquaintances with their mouths open with her sincere ways.Stephen, not the shinning knight we are used to in Austen's novels, is an intelligent but not obliging character who exasperates Miss Fortune with his jesting, who, at the same time, captivates the reader at once. The dialogues between those two are utterly brilliant.The other characters help to create a complete and believable picture of the Victorian era, providing the reader with high entertainment of such quality only comparable to that of Austen's, Du Maurier's or the Brontës'.I can't praise this book enough, specially the second half, which had me completely hooked, and remember the declaration of the last pages which left such a sweet taste on my mouth that I'm sure it'll be some time until I have so much genially fun.I'll be definitely reading more by this author!
Review by AdonisGuilfoyle
16/06/2015
Jude Morgan's Austenesque novel started well enough, with a wryly cynical heroine fallen on hard times, but the plot was slow to develop and the characters never really came to life for me. Yes, Jane Austen's stories - most particularly <i>Emma</i>, my favourite - are usually only limited in scope to 'white frocks and weddings', or the trivial romantic concerns of a few gentlefolk, but then her narratives are also packed to the brim with humour and sly social commentary. Morgan attempts this same approach - 'Lord what fools these mortals can be. Men most of all; and of all men, soldiers. Dice, wine, and trollops is all they are good for' - but what he matches in style, he misses in substance. The dialogue sounds very Regency, but his characters never have anything of consequence to say. Caroline is perhaps meant to be a worldly Mary Crawford type, but comes across more like one of the goodly heroines of novels like <i>Evelina</i>, which Austen liked to mock. Stephen Milner is a Henry Tilney knock-off, Richard Leabrook and Charles Carraway are Cads with a capital 'C' in the time honoured style of Wickham and Willoughby, and Mrs Catling is a middle class Lady Catherine de Bourgh. All are recognisable from Austen's novels, down to the romantic entanglements, but more in the style of Georgette Heyer than the original author, I'm afraid. The story is a jumble of <i>Emma</i>, <i>Pride and Prejudice</i>, <i>Northanger Abbey</i> and <i>Mansfield Park</i>, with a dash of Burney thrown in for good measure.Perhaps I just wasn't in the right mood, but Jude Morgan's ode to Austen simply failed to inspire. The first part, with Caroline going to work for the irascible Mrs Catling, was intriguing and well written, although I was already wondering where the story was leading, but the country house shenanigans were hardly worth waiting for and the ending was rushed. I might give another of Jude Morgan's novels a try at a later date - after choosing this title on the strength of the many positive reviews received - but then rereading Austen might be a safer bet.