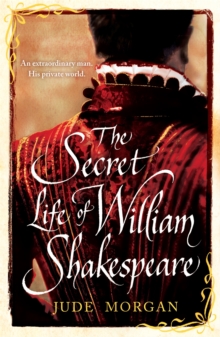 The Secret Life of William Shakespeare
Paperback
Description
The greatest writer of them all, brought to glorious life.How well do you know the man you love?
How much do you think you know about Shakespeare? What if they were one and the same? He is an ordinary man: unwilling craftsman, ambitious actor, resentful son, almost good-enough husband. And he is also a genius. The story of how a glove-maker from Warwickshire became the greatest writer of them all is vaguely known to most of us, but it would take an exceptional modern novelist to bring him to life. And now at last Jude Morgan, acclaimed author of Passion and The Taste of Sorrow, has taken Shakespeare's life, and created a masterpiece.
Information
Format: Paperback
Pages: 464 pages
Publisher: Headline Publishing Group
Publication Date: 01/09/2012
Category: Historical fiction
ISBN: 9780755358243
Free Home Delivery
on all orders
Pick up orders
from local bookshops
Reviews
Showing 1 - 1 of 1 reviews.
Review by Cariola
16/06/2015
As a Shakespearean by profession, I've read many works of fiction centered on the life of William Shakespeare. Most of them are pure drivel. Those by Robert Nye, in fact, so disgusted me that I trashed them rather than passing them on to some poor unsuspecting reader. But Jude Morgan is one of my favorite historical fiction writers, so I had high hopes for his latest book—and it did not disappoint. The title—which suggests something raunchy—is rather inappropriate; but I had experienced the same issue with the first Morgan book I read, <i>Passion</i>, which sounds more like something by Danielle Steele. Who would have guessed that it was a brilliant novel about the Romantic poets?Instead of focusing solely on Will's rise to fame, Morgan gives equal attention to his wife Anne. Too many authors take the easy way out, depicting the 26-year old pregnant Anne as the seducer of the much younger glover's son (he was 18), who later turns into a wife so shrewish that her husband has few qualms about leaving her and his three children in Stratford while he pursues fame and fortune on the London stage. Or a greedy woman content with her husband's long absences as long as he keeps sending home the gold coins. But Morgan takes a different path. He shows us the couple, each of whom is dissatisfied with life in the parental home, falling in love—and we believe it. And ironically, it is Anne's love for Will that allows him to leave for London: he has told her that he will stay if she asks him to, but she realizes the strength of his desire for the stage and wants him to be happy. Either way, she will lose a part of him, but she believes it would be better to bear his absence and retain his love than to live day-to-day with his resentment and fading affection. But Will's brief visits home are nearly as difficult as his long absences as Anne senses that he has become a changed man. At one point, she and the children move to London to live with Will, but almost as soon as they arrive, it becomes apparent that this was a mistake. The noise, the filth, the unhealthy air, the lack of friends, the ever-present violence, Will's late nights, the company meetings in their house that keep the children awake—all this soon drives Anne and the children back to Stratford. On parting, their division becomes even stronger when Will says, "I have tried, Anne"—his tone clearly implying that she has not. Events follow that all but cement the differences between them, yet a small glimmer of what was ultimately remains.Morgan's depiction of Will's life in London's theatre world is low-key when compared to other novels, but he brilliantly characterizes Shakespeare's cohorts: Burbage, Kempe, Tarleton, Kyd, Dekker, Nashe, Middleton, and most especially Marlowe and Jonson. It is the sly Marlowe who questions Will's self knowledge ("So, who is Will? And what is he for?") and provokes him to delve for the truth. And it is the stolid Jonson who encourages him to look beyond pleasing the masses to pursue a higher, everlasting truth in his work. But Will must find his own way, even if it leads to a divided self.This is perhaps the best Shakespeare-based novel that I have read, and I highly recommend it to anyone curious to know more about the holes in his biography, especially his marriage to Anne Hathaway. Although the facts may be questionable, Morgan has done his research, and the emotional lives he portrays are as complex and recognizable as are our own.