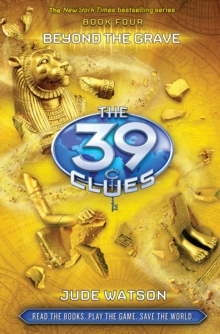 Beyond the Grave
Paperback
Description
Amy and Dan are hot on the trail of the fourth Clue, but their ruthless relatives will stop at nothing to eliminate them from the competition.
Their hunt leads them to an ancient city that has been a hot bed of Cahill activity for centuries.
All that stands between the siblings and the Clue is a cryptic riddle, a missing relic, and the secret of their grandmother's past.
The clock is ticking for Amy and Dan, but can they really solve a mystery that has eluded their ancestors for generations?
Information
Format: Paperback
Pages: 196 pages
Publisher: Scholastic US
Publication Date: 01/06/2009
Category: Adventure
ISBN: 9780545060448
Free Home Delivery
on all orders
Pick up orders
from local bookshops
Reviews
Showing 1 - 5 of 24 reviews.
Previous | Next
Review by cmbohn
16/06/2015
Another fun book in this series. I like that we are starting to get to know all of the contestants better. This one has some background about Irina. I'm glad to see Dan and Amy learning to work out their differences and help each other more.
Review by 59Square
16/06/2015
In this book Amy and Dan Cahill have followed the 39 clues to Cairo, and are basically frustrated and trying to make something out of scraps of clues. They have no one they can trust, but when they meet a long time friend of Grace's, they believe they can trust her. Once again there is a lot of adventure and historical information in these novels, although this one does not have as many of the ongoing characters in it. Some characters make a quick appearance and others never show up. The other thing about Watson's writing style is that it didn't seem to move as quickly - maybe because more of the characters were dealing with emotions instead of adventure. Still I really like this ongoing series, and I think the authors do a good job of keeping the tone very similar. I think kids will continue to gobble this like popcorn!
Review by skstiles612
16/06/2015
Dan and Amy Cahill are still on the hunt for the 39 clues. They have faced one betrayal after another. Now they have reason to suspect that their grandmother was as evil as the other's in their extended family. They and their au pair Nellie are headed to Egypt to try to find the next clue in the hunt. Here they find that friends aren't what they think and enemies might not be total enemies. I personally enjoy these mysteries. I wish they were all out at once so I could go from one to the next. I will have spaced them out so far that I will need to go back and read the first through the last at one time. This was a little more difficult to figure out the clues. Jude Watson did a great job of bringing the culture of Egypt to life for the reader. Nellie once again surprised me. She started out in the first book a little bit ditzy. I now believe that that was what we were led to believe and she will continue to play a greater role in each book to follow. I Can't wait to read the next book which I should have in a couple of weeks. I gave this book a 4 out of 5 as I found some of the twists and turns to be a little bit confusing. Still I would recommend this book.
Review by libraryclerk
16/06/2015
This series is really good in that it give historical information as you follow Dan and Amy as they search for the 39 Clues their grandmother Grace, at her death, told them they need to find the treasure. All their relatives are try too and threaten their lives. A fun read.
Review by shelbel100
16/06/2015
4th installment in The 39 Clues series, this episode finds Amy and Dan in Egypt looking for the 4th clue. They team up with a guide, Theo, whose mother was a friend of their grandmother Grace who, years ago, left a message for them with her. A message that lead them on a scavenger hunt throughout Egypt.Crocodiles and ruthless souvenir sellers are more dangerous than being chased by other Cahills. At one point, Dan & Amy are stranded at night on a small island on the Nile. Surrounded by man-eating crocodiles they, once again, barely escape with their lives.I really wish the books would come out more often. At this pace it will take the better part of 13 years if volumes are only published once every 3 months.
Also in the The 39 Clues series