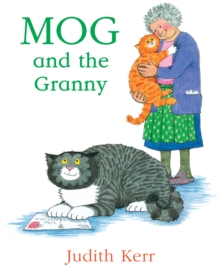 Mog and the Granny
Paperback
Description
New cover, new format reissue of this story about everyone's favourite family cat, Mog.When the Thomas family go on holiday, Mog stays with Granny.
It seems safe enough...until she meets Tibbles.
Information
Format: Paperback
Pages: 32 pages, (Colour illustrations)
Publisher: HarperCollins Publishers
Publication Date: 04/04/2005
Category: Picture books: character books
ISBN: 9780007171279
Free Home Delivery
on all orders
Pick up orders
from local bookshops
Reviews
Showing 1 - 1 of 1 reviews.
Review by AbigailAdams26
16/06/2015
When the Thomas family goes to America for the summer holidays, Mog is sent to stay with Granny and her cat Tibbles. Although Mog "didn't like things to be exciting. She liked them to be the same," she finds that staying with Granny isn't so bad. She's well-cared for, and she and Tibbles usually get along. But when a frightening day-dream involving Debbie being kidnapped by some 'bird-people' precipitates the alarmed feline into the centre of Granny's tea party, causing catastrophe, the clumsy Mog is disheartened. Then she gets a vision of the Thomases returning, and sets off to welcome them home, only to find herself chased up a tree by a local dog. How will she get down, and will it happen in time for her to welcome her family...?Judith Kerr's thirteenth title devoted to the adventures of that adorably befuddled kitty whose story began in <u>Mog the Forgetful Cat</u> (1970), <u>Mog and the Granny</u> contained a number of themes to be found in earlier entries in the series. Mog's penchant for (unintentionally) causing trouble, and then withdrawing in hurt and confusion can be seen here, as can her proclivity towards unusual dream imagery featuring threatening bird-like creatures. The 'bird-people,' who are really 'Red Indians' participating in a show that the Thomases are enjoying over in America, reminded me of the 'mousedogbirds' that our feline heroine encountered in <u>Mog In the Dark</u>. The association was interesting, although I think the reader is meant to understand that the images that Mog sees in this case are visions of actual events, rather than just dreams. As a fan of the series, I wish I could say that I enjoyed this one, but I was troubled by the scenes involving Native Americans here, much as I was in <u>Mog's Amazing Birthday Caper</u>. Not only is there quite a bit of cultural confusion - men in full stereotypical Plains regalia, standing outside tipis, while totem poles(!) appear in the background - but the entire sequence seems to rest on the perception of Native peoples as tourist attractions and curiosities, rather than as real human beings. Symbols and myths, rather than residents of the present-day world. Although children's books in the USA and Canada still sometimes contain this kind of depiction of indigenous peoples, I think it is becoming less common. In the UK and other parts of Europe, on the other hand, the exotification of the native peoples of the western hemisphere continues, and there seems to be little awareness of why this might be problematic. Sadly, this is not one of the Mog books I recommend, and I can understand why it hasn't been published in the states...