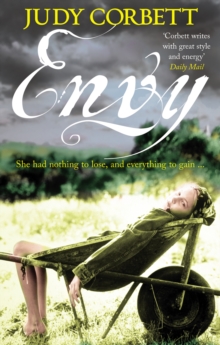 Description
What happens when your beloved only daughter's friend turns out to be a destructive cuckoo in the nest?
When girlish charm turns to seduction and teenage friendship to manipulation.
How can just one teenage girl wreak havoc on a decent, loving household? "Envy" is a uniquely absorbing novel focusing on two teenage girls.
Isabel the charmed, golden daughter of a wealthy, devoted daddy, and Diane, whose bitter, downtrodden mother lives on a rented cottage on Isabel's family's land.
They become friends and Diane, our compelling narrator, driven by her loveless childhood and terrible envy, manoeuvres her way into the family, and slowly begins to break them apart.Running through this suspensful, shocking novel, are undertones of heat, sexuality and betrayal.
After her highly acclaimed account of life in a medieval castle, "Envy" shows Judy Corbett to be a novelist of unusual precision and style.
A distinctive writer who reveals the malice in youth and the destructiveness of love. "Envy" is a powerful, gripping read and darkly enjoyable twist on the coming-of-age novel.
Information
Format: Paperback
Pages: 240 pages
Publisher: Ebury Publishing
Publication Date: 06/03/2008
ISBN: 9780091910655
Free Home Delivery
on all orders
Pick up orders
from local bookshops
Reviews
Showing 1 - 1 of 1 reviews.
Review by porchsitter55
16/06/2015
A beautifully written literary gem, this tale is centered around Diane, a young girl who is raised in a home full of domestic violence and extreme poverty. When she develops a friendship with a rich girl, Diane is full of awe as she sees how Isabelle lives in comparison to herself.The title of the book, "Envy" is a good choice, as Diane is so full of envy that soon, a plan hatches in her mind, that she is determined to make this rich life of Isabelle's her own. Diane leaves her own home and begins staying with Isabelle's family, which consists of Isabelle, her mother Phileda & father Geoffrey. During a party, Diane subtly seduces Geoffrey and there is a sexual encounter in the back seat of a car. Diane insinuates a rape has occurred and Phileda throws Geoffrey out of the house. Isabelle is horrified, as is her mother, and Diane is treated with kid gloves, and for all intents and purposes, becomes a member of the family. Eventually Isabelle goes off to university and Diane slowly manipulates her way into Phileda's heart, as she tries to usurp Isabelle's place as #1 daughter. When Isabelle returns from university, she brings along her new boyfriend, Adrian. Once again, Diane sees what Isabelle has, and determines that she will do anything to have it too.This short novel is full of drama, and a study of how Diane manipulates each person she comes into contact with, in order to achieve her goal of taking what she never had. It had a slightly slow start, but after a few pages, the story really took off and I was riveted, turning pages into the night.The shocking ending made this a real winner. Highly recommend this excellent book!