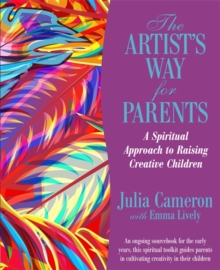 The Artist's Way for Parents : Raising Creative Children
Paperback / softback
Description
For years, Julia Cameron was asked by devotees of The Artist's Way if she would consider writing a manual for children, so that they too could experience the same transformative experience of discovering their creativity.
As her daughter begins to have children herself, Julia turned back to her own techniques, and those of her hundreds of clients, for how to bring about a more open, creative, grounded childhood, one that leads to a fulfilled adulthood.
As Julia says, 'Parenting is a great adventure. Awakening your child's sense of curiosity and wonder helps you to awaken your own.
Awakening your own sense of curiosity and wonder helps you awaken your child's.'Julia Cameron's techniques for creativity will quickly show you how:- Exercising creativity, alone and together, strengthens the bond between parent and child- How creativity can guide your child to an expansive and adventurous life- How your child can learn to understand their emotions, spend time playing away from screens, become more socially able and independent
Information
Format: Paperback / softback
Pages: 288 pages
Publisher: Hay House UK Ltd
Publication Date: 15/08/2013
Category: Advice on parenting
ISBN: 9781781802069