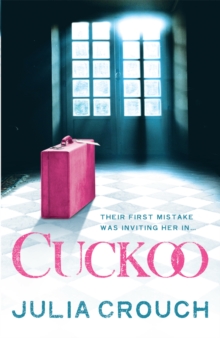 Description
CUCKOO by Julia Crouch is the original psychological thriller: a dark, deliciously unsettling drama in the vein of I LET YOU GO, THE COUPLE NEXT DOOR and THE GIRL ON THE TRAIN. 'Brilliant...truly chilling' Sophie Hannah Rose has it all - the gorgeous children, the husband, the beautiful home.
But then her best friend Polly comes to stay. Very soon, Rose's cosy world starts to fall apart at the seams - her baby falls dangerously ill, her husband is distracted - is Polly behind it all?
It appears that once you invite Polly into your home, it's very difficult to get her out again...
Information
Format: Paperback
Pages: 448 pages
Publisher: Headline Publishing Group
Publication Date: 01/11/2011
ISBN: 9780755377992
Free Home Delivery
on all orders
Pick up orders
from local bookshops
Reviews
Showing 1 - 2 of 2 reviews.
Review by AdonisGuilfoyle
16/06/2015
Ever read a novel where the 'protagonist' is just so horrifically obnoxious that you hope they will soon suffer an inventive and drawn out demise? That was me with Rose Cunningham, the saggy housewife who finds her dull domestic existence taken over by her creepy and cadaverous best friend Polly. The first half of the novel reminded me of the daytime TV show <I>Escape to the Country</I>, where pretentious city 'bankers' decide they would like to invest obscene amounts of money in a rural retreat, but never buy anything because their demands are so ridiculous and contrary, like a spacious cottage or modern period features. Rose the drippy housefrau and her 'troubled' husband Gareth the 'cerebral artist' would be right at home on that programme, raising chickens and popping out in the people carrier to Waitrose. (Rose actually has a 'special wicker basket' for shopping at the farmers' market, so she feels like a proper 'village woman'!) I was sort of glad when Polly the drug-raddled, skinny and self-absorbed 'heroin' appeared on the scene to destroy the dream.Crass characters and product placement aside, Julia Crouch's debut novel is a fast-paced and strangely engrossing read - I got through the whole sorry saga in a day. Rose, Gareth and Polly also carry enough 'emotional baggage' to save any of them from complete lifelessness - Rose is a born victim, which goes some way to explaining the monumentally stupid decisions she keeps making, like trusting Polly again and again, and Gareth has issues from the start, so nobody really notices him getting stranger under Polly's spell. And even though the dialogue is trite, Crouch injects just enough middle-class realism into her writing to make the story convincing.Really, though, what spurred me on towards the end was hoping that either Rose would get some sense knocked into her - stop drinking and take better care of your children, woman! - or meet a satisfyingly sticky end. The sudden switches in her personality from capable mum to paranoid victim and back to resourceful heroine made my head spin, but hoping that she would learn her lesson was too much to expect. The final chapters were equally random, including a flying visit to Brighton and my favourite use of caps, 'SHOPPING AT WAITROSE'. As Rose herself says, 'We've all been idiots. It's like we're making it up as we go along'. The messy ending also left me with a few unanswered questions, like what did they find down the drain if not the cat, what happened to the replacement kitten, and is what Gareth did to Rose in bed even physically possible? If she was that <i>accommodating</I>, then no wonder he wanted to jump Polly's protruding bones!
Review by oldstick
16/06/2015
This book would make a great film. Well drawn characters and a gripping plot. I thoroughly enjoyed it.