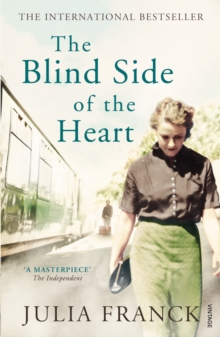 The Blind Side of the Heart
Paperback
Description
Amid the chaos of civilians fleeing west in a provincial German railway station in 1945 Helene has brought her seven-year-old son.
Having survived with him through the horrors and deprivations of the war years, she abandons him on the station platform and never returns.
This is a tale of hope, loneliness and love, and of a life lived in terrible times.
It is a great family novel, a powerful portrayal of an era, and the story of a fascinating woman. Shortlisted for the Independent Foreign Fiction Prize 2010.
Information
Format: Paperback
Pages: 432 pages
Publisher: Vintage Publishing
Publication Date: 01/07/2010
ISBN: 9780099524236
Free Home Delivery
on all orders
Pick up orders
from local bookshops
Reviews
Showing 1 - 2 of 2 reviews.
Review by chrissybob
16/06/2015
Not really sure where to start with this one - there were parts of this book I really enjoyed and others I hated. The book portrays the story of Helene - opening with her deserting her young son at a railway station. The remainder of the book is her story and what leads to her this unforgivable act. Her story is very moving - the relationships around her are so dysfunctional that she withdraws emotionally and this leads to her inability to care for her son. What is interesting is her empathy for the patients she treats as a nurse - compared to her issues with intimacy with her son. All of this is set against the period between WW1 and WW2 - which gives a real sense of foreboding. This side of the book I enjoyed and it was certainly thought provoking. In addition the language is beautiful and layered. That said the author also covers elements of philosohpical debate - often happening between lead characters and I found this hard going. Without an understanding of philosophy I lost interest and this detracted from the story. I also didn't like the lack of speech marks - I thought this was unnecessary and made the read more complex than it needed to. Overall this is well worth the read - just be prepared to accept some of the flaws to get real enjoyment out of it.
Review by AlythGrant
16/06/2015
The story of two sisters, Helene & Martha, growing up in Bautzen, whose mother is Jewish, and regarded as "foreign". Adored by her husband, she becomes agoraphobic and useless as a mother. In the Third Reich the sisters abandon their mother to the care of their housemaid and move to Berlin. Martha enters a lesbian relationship and Helene fulfils a childhood desire for education, becoming a nurse (she had always wanted to be a doctor). She marries Wilhelm, who is a Nazi sympathiser, a desperately unhappy marriage. She has a son Peter, for whom Wilhelm expects her to provide by keeping working. During the war her husband virtually abandons her - obviously has a new woman. Helene realises what is going on with the Jews, and knowing her son would never be persuaded to leave her, she abandons him on a railway station, knowing he can get to her borther-in-law, his only relations. In an Epilogue after the war, she seeks him out on his 17th birthday, but he refuses to see her.