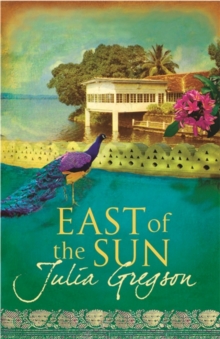 East of the Sun
Paperback
Description
An utterly captivating story of three young British women in search of freedom and love in 1920s India Autumn 1928.
Three young women are on their way to India, each with a new life in mind.
Rose, a beautiful but naive bride-to-be, is anxious about leaving her family and marrying a man she hardly knows.
Victoria, her bridesmaid couldn't be happier to get away from her overbearing mother, and is determined to find herself a husband. And Viva, their inexperienced chaperone, is in search of the India of her childhood, ghosts from the past and freedom. Each of them has their own reason for leaving their homeland but the hopes and secrets they carry can do little to prepare them for what lies ahead in India.
From the parties of the wealthy Bombay socialites, to the ragged orphans on Tamarind Street, EAST OF THE SUN is an utterly engaging novel that will captivate readers everywhere.
Information
Format: Paperback
Pages: 480 pages
Publisher: Orion Publishing Co
Publication Date: 12/06/2008
ISBN: 9781409102519
Other Formats
Paperback from £7.85
EPUB from £4.99
Free Home Delivery
on all orders
Pick up orders
from local bookshops
Reviews
Showing 1 - 5 of 5 reviews.
Review by SmithSJ01
16/06/2015
This book is captivating. It is a slow unfurling read that can't be rushed. If you haven't been to India, Gregson's stimulating narrative is going to awaken your senses. If you have been, especially to the places described, a wonderful memory awaits. It's autumn 1928 and the Kaiser-i-Hind is waiting to set sail for Bombay a land promising the start of three very different lives for the three young women we follow on board. Meet Rose, Victoria (Tor) and Viva. Rose is naïve and about to be married to man she hardly knows but is full of hope. Tor is happy to be away from her parents and her life and all she wants from her adventure is a husband of her own. Then there is Viva who isn't as old as Rose and Tor's family thinks she is yet still manages to secure a job as their chaperone. There are other significant characters along the way but these three women are the narrators, telling their story in their own way; learning about themselves and each other.The book is fabulous, from beginning to end. Gregson introduces the reader to the three women in the beginning of the novel and the beginning of their adventure. Dialogue and narrative blend to give an enthralling story that is difficult to put down. I became quite involved in their ups and downs, willing them on with different parts of the lives, especially when they were making fools of themselves with the decisions they were making. I have a love of literature set in India and would have discovered this novel myself at some point but I was thrilled to see this as part of Richard & Judy's summer read. Having read 6 out of the 8 novels so far, I have found this one to be by far the best. One I will continually recommend.
Review by dudara
16/06/2015
This novel is set in the late 1920s and features a young English lady, Rose, who is taking the boat to India to marry a young calvary officer who she barely knows. Accompanying her is her friend Tor, who failed to find a young man at the last debs season and is now hoping to find a partner in India, where women are in short supply. They are chaperoned by Viva, who is returing to the India she left as a child in order to make sense of her family history.The novel follows the tales of the three women, each with a distinct personality as they struggle in the face of tough relationships and the increasing political turmoil in India. It's a wonderful tale of friendship, and while romance and relationships are part of this story, they never really dominate the central theme of friendship. The scenery and settings in the book are fabulously described and capture an era that is now gone, that of British colonial India.This is a great read - not too strenuous or tough, but still with meaning.
Review by DeltaQueen50
16/06/2015
In 1928 three young women are on their way to India, each with a new life in mind. Rose, a naive bride-to-be going to a strange land to be with a man she hardly knows, Victoria, her best friend eager to get away from her overbearing mother and have adventures and romance, and Viva, returning to her land of birth in search of her roots and ultimately herself.Forging a friendship that will help them endure, we follow these three women as they experience life and India, from the British enclaves to the streets of povertry ridden Bombay.A well written, engaging story with characters that are never picture-perfect but flawed, altogether real humans that I found myself caring about. I had my fingers crossed for a happy ending but life usually isn't tidy and East of the Sun, like real life, didn't have a tidy ending with everything done up in a fancy bow. Instead I was left with a satisfactory feeling that things ended as they should have.
Review by DubaiReader
16/06/2015
A lovely sense of the times of the Raj in India.This book starts out with great promise, with the crossing from England to India in the Kaiser-i-Hind. As we sailed, we met the four characters who are central to this story.Viva needs to return to India to retrieve an old trunk that belonged to her dead parents. Rose is travelling to marry captain Jack Chandler, a man she hardly knows, and her friend and companion, Tor (Victoria) is to be her bridesmaid. Tor is also hopeful of finding herself a husband so she doesn't have to return back home to her overbearing mother. The party is completed by Guy Glover, an unstable boy of sixteen, who has been expelled from his school in England.Viva is acting as chaperone to her young companions and although she is not much older than they are, her previous experience in India has persuaded the parents of her suitability.This was the late 1920s and the time of the Raj was drawing to a close. We sensed the building of tension in the background of the narrative and towards the end of the novel, fewer and fewer boats were arriving at the port. Possibly not the best time to arrive in India, but the girls were full of enthusiasm and determined to make a go of their new lives. It's always good to learn something from a book, and what this book taught me about was the 'fishing fleet', the name given to well connected young ladies who fail to find a husband in the London season. Many of them then travelled to India in search of marriageable men, where the ratio of men to women was three to one.My one problem with the book was the Guy Glover story-line, which seemed to be added just to give the book a bit of excitement, but for me, this didn't work and was responsible for the four, rather than five stars.
Review by JenneB
16/06/2015
A nice juicy story that makes you want to read it all in one go, preferably sitting on a veranda if possible.<br/><br/>One small point: the heroine is always just eating a mango for lunch, as if that's just something you do. Maybe it's just me, but I can't eat a mango without needing a shower and a change of clothes afterward.