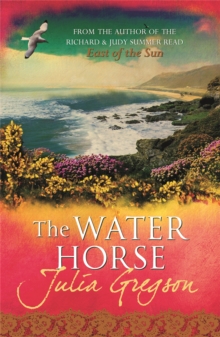 The Water Horse
Paperback
Description
A sweeping historical love story - from the author of EAST OF THE SUN.Catherine Carreg has grown up a tomboy, spending her days racing her ponies with Deio, the drover's son, in a small Welsh village.
But Catherine is consumed by a longing to escape the monotony of village life and, with Deio's help, runs away to London.
Alone in the unfamiliar bustle of the city, Catherine finds a position in a rest home for sick governesses in Harley Street, run by Miss Florence Nightingale.
Then, as the nation is gripped by reports of the war in the Crimea, Catherine volunteers as a nurse - and her life changes beyond all recognition.Arriving in Scutari, she is pitched into a living nightmare and, against the passion and heroism of one of the most traumatic wars in history, she is forced to grow up quickly and painfully, and learn the hardest lessons of love and war.
Information
Format: Paperback
Pages: 480 pages
Publisher: Orion Publishing Co
Publication Date: 01/01/2009
Category: Sagas
ISBN: 9781409102656
Free Home Delivery
on all orders
Pick up orders
from local bookshops
Reviews
Showing 1 - 3 of 3 reviews.
Review by juliette07
16/06/2015
In my opinion this was one of those books that offered much but failed to deliver. One could say it was my own fault. Bought upon impulse at an airport emporium on the strength that my 10 kilograms of hand luggage was not actually 10 kilos. I was lured into a book shop to ensure that best value was made of my weight allowance. Written by an author whose previous book, East of The Sun, I had enjoyed and valued I was intrigued by her ability to write about place.. With a setting of The Crimea, a determined female mixed with a bit of Florence Nightingale along with a relationship dimension the yarn was set to go one of two ways. For me I was disappointed – the denouement was clear almost from the start - yet I did persevere and complete it. Why I ask myself? Simply because I was on an airplane and could not manage to extricate my hand luggage from the above head compartment.
Review by ilurvebooks
16/06/2015
This is a wonderful book set in the 1800's about a young girl who volunteers to help in the Crimean war along Florence Nightingale....could not put this book down excellent.
Review by jayne_charles
16/06/2015
This promised much but ultimately I was disappointed. It wasn't the quality of the writing – that was excellent throughout. As in her other novels, Julia Gregson proves up to the task of describing any setting with skill and confidence, and with the depth of detail that makes it believable. She also does a great job of bringing Florence Nightingale to life – quite different from the image I always had of her. We are reminded again and again of the squalid conditions in which wars are fought. I think what I ultimately disliked about the book was the way it moved from place to place, never going back, never revisiting characters we had got to know, always moving on, and that when it reached its ultimate destination the storyline felt rushed and not enough time was invested in that final section to make it meaningful. So it's my least favourite by her so far, but I'm still a fan.