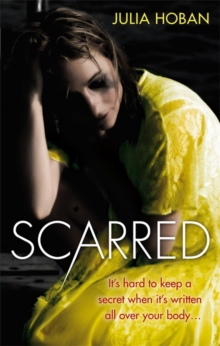 Scarred : It's hard to keep a secret when it's written all over your body...
Paperback
Description
Seven months ago on a rainy March night, Willow's parents drank too much wine at dinner and asked her to drive them home.
But they never made it - Willow lost control of the car, and both of her parents were killed.
Now seventeen, Willow is living with her older brother, who can barely speak to her.
She has left behind her old home, friends, and school.
But Willow has found a way to survive, to numb the new reality of her life: She is secretly cutting herself.And then she meets Guy, a boy as sensitive and complicated as she is.
When Guy discovers Willow's secret, he pulls her out of the solitary world she's created for herself, and into a difficult, intense, and potentially life-changing relationship.
Information
Format: Paperback
Pages: 320 pages
Publisher: Little, Brown Book Group
Publication Date: 01/03/2010
Category: General
ISBN: 9780749942328
Free Home Delivery
on all orders
Pick up orders
from local bookshops
Reviews
Showing 1 - 2 of 2 reviews.
Review by StevePalmer
16/06/2015
17 year old Willow is a cutter, a bad day at school, the look on her brother's face, the absence of her parents, her razor blade masks one pain with another. Seven months after surviving the car crash that kills her parents, Willow is bowed down with guilt - for killing them and for burdening her brother with the responsibility of looking after her. Then she meets Guy and is scared and confused when she starts to have feelings for him. The tragedy of the story is that neither Willow, nor her brother David, can bring themselves to talk to each other about their grief and loss. The depictions of self-harm are shocking and chilling, the level of self-loathing is appalling and Willow's misinterpretation of people's reactions to her are infuriating. But the love story is touching and gentle with some beautiful, naturalistic dialogue that brings the characters to life. An understanding depiction of a self-harmer and her motivations with some strong language, though given the subject, this is scarcely relevant.
Review by nicola26
16/06/2015
You know it's bad when you can't work up much sympathy for a character who's just lost her parents. <br/><br/>I just couldn't bring myself to like Willow, no matter how hard I tried. I totally understand that she was going through a lot and struggling but I still don't think it's an excuse to act like nobody else's problems are real. Willow seemed to think that just because she'd gone through something awful, NOBODY else's feelings were valid. No problem other than Willow's was worth crying about. That just really annoyed me. <br/><br/>Also couldn't stand Guy, the love interest. He was SO odd. Very melodramatic, as was Willow. Their relationship was incredibly unhealthy but Hoban portrays it as something to be desired. Maybe I'm just not one for 'damsel in distress' type stories. I think the story did have potential. <br/><br/>It could have been an interesting story of a girl who gets the strength to carry on after a disaster with support from friends and family, instead of a story about how a girl can only recover with the 'help' of some random overbearing guy. <br/><br/>I know I've torn the book apart here but it wasn't ALL bad. The writing is good, the story idea was good, it kept me interested until the end which is also good. There are certainly a lot of people who will like this- just not me.