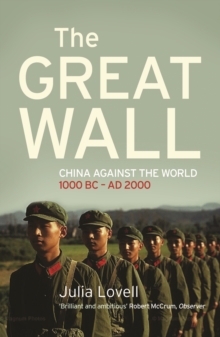 The Great Wall : China Against the World 1000 BC - AD 2000
Paperback
Description
Legendarily 2,200 years old and 4,300 miles long, China's Great Wall seems to be a confident physical statement made by an advanced civilization, anxious to draw a line between itself and the 'barbarians' at its borders.
But behind the Wall's intimidating exterior, and the myths that have built up around it, lies a history far more fragmented and far less illustrious than its crowds of modern-day tourists might imagine.
In this epic history exploring the conquests and cataclysms of the Chinese empire over the past 3,000 years, Julia Lovell restores a human dimension to this astonishing structure: examining the emperors who planned new phases of building; the people who constructed, lived and guarded the walls; and the millions who died - of overwork, starvation, cold and combat.
The Great Wall is essential reading for anyone who wants to understand China's past, present and future.
Information
Format: Paperback
Pages: 432 pages
Publisher: Atlantic Books
Publication Date: 01/01/2007
Category: Asian history
ISBN: 9781843542155
Free Home Delivery
on all orders
Pick up orders
from local bookshops