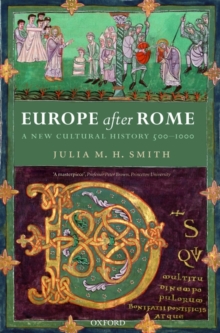 Europe after Rome : A New Cultural History 500-1000
Paperback / softback
Description
This is the first single-author study in over fifty years to offer an integrated appraisal of the early Middle Ages as a dynamic and formative period in European history.
Written in an attractive and accessible style, it makes extensive use of original sources to introduce early medieval men and women at all levels of society from slave to emperor, and allows them to speak to the reader in their own words.
It overturns traditional narratives and instead offers anentirely fresh approach to the centuries from c.500 to c.1000.
Rejecting any notion of a dominant, uniform early medieval culture, it argues that the fundamental characteristic of the early middle ages is diversity of experience.
To explain how the men and women who lived in this period ordered theirworld in cultural, social, and political terms, it employs an innovative methodology combining cultural history, regional studies, and gender history.
Ranging comparatively from Ireland to Hungary and from Scotland and Scandinavia to Spain and Italy, the analysis highlights three themes: regional variation, power, and the legacy of Rome.
The book's eight chapters examine the following subjects: Speaking and Writing; Living and Dying; Friends and Relations; Men and Women; Labour and Lordship; Getting and Giving; Kingship and Christianity; Rome and the Peoples of Europe.
Collectively, they establish the complex cultural realities which distinguished Europe in the period between the end of the central institutions of the western Roman empire in the fifth century and the emergence of a Rome-centred papal monarchy from the lateeleventh century onwards.
In the context of debates about the social, religious and cultural meaning of 'Europe' in the early twenty-first century, this books seeks the origins of European cultural pluralism and diversity in the early Middle Ages.
Information
Format: Paperback / softback
Pages: 400 pages, numerous maps
Publisher: Oxford University Press
Publication Date: 28/06/2007
Category: European history
ISBN: 9780192892638