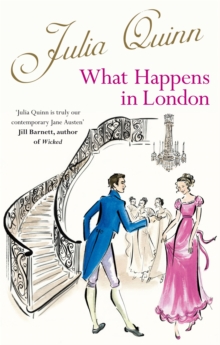 What Happens In London
Paperback
Description
Olivia Bevelstroke, the only daughter of the Earl of Rudland, is beautiful and has a sizeable dowry.
Yet at the age of twenty-one she is still unmarried, causing people to whisper behind her back, 'What is she waiting for?
A prince?' But Olivia isn't cold or stuck up, and neither is she a hopeless romantic.
She's just waiting for something - or someone.Sir Harry Valentine, a war veteran, is now back in London working in secret for the War Office and keeping an eye on his wayward younger brother.
Rumour has it that he killed his fiancee, which intrigues Olivia.
She thinks her new next-door neighbour looks the part, and even if he isn't a murderer, he's certainly up to something.
Then a real-live Russian prince comes to town, sparking intrigue.
He has his eye on Olivia, but so does Harry, who's been ordered to spy on the prince - and thus by extension, Olivia.
But will what he finds out about her bring her closer to his heart?
Information
Format: Paperback
Pages: 336 pages
Publisher: Little, Brown Book Group
Publication Date: 01/07/2009
Category: Historical fiction
ISBN: 9780749941895
Free Home Delivery
on all orders
Pick up orders
from local bookshops
Reviews
Showing 1 - 5 of 7 reviews.
Previous | Next
Review by CatyM
16/06/2015
An enjoyable and frivolous historical romance. I don't think it's Quinn's best book, but it's pretty good. The characters veer a bit close to being cardboard cutouts at times, but most of the time they're pretty well rounded and there are some great comic moments. There's not a lot of plot but since most of the book is firmly centred on the characters' personalities it all jogs along nicely enough - which makes the whole <i>Deadly Peril at the Russian Embassy</i> section near the end seem somewhat dissonant.Although I'm not entirely convinced that the hero and heroine are as much in love and as committed to one another as they claim to be by the end of the book, I <i>can</i> see them heading firmly in that direction, and I do think they're well suited to one another.All in all, a nice, light read.
Review by wyvernfriend
16/06/2015
Olivia Bevelstoke is told that her new neighbour may have killed his fiancee, and she's curious so she decides to watch him. She finds him interesting and they eventually start to talk. Harry Valentine works as a translator fo the War Office, he is absorbed in his work, but he's finding the beautiful blonde who is watching him a distraction. When he's encouraged to watch a man who is pursuing her, he becomes caught up in an interesting situation. The scenes with them at their windows were quite nice and the scenes reading the gothic novel out loud was hilarious.There were some genuine laugh-out-loud moments in this for me. I found it very funny and the couple came across as being quite well suited. I look forward to reading more by this author
Review by RomneyMarsh
16/06/2015
Better in places than the last few, but ultimately forgettable.
Review by gogglemiss
16/06/2015
Delightful story concerning a Lady, a Baronet and a Russian Prince. Witty dialogue. 
Review by MelissaRogerson
16/06/2015
This book is adorable. I generally enjoy Julia Quinn's novels but the last few had fallen a bit flat for me - this is a return to form. As an incurable "lister", I loved that the heroine constantly wrote lists, and the characters came across as warm and approachable. It's light and fluffy, but it's very fun, and Quinn's fun writing style is always enjoyable.