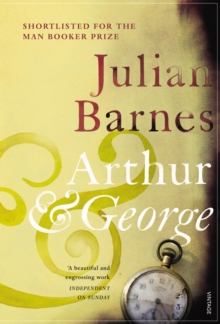 Arthur & George
Paperback
Description
Now a major TV series starring Martin Clunes, Arsher Ali and Art MalikFrom the winner of the Man Booker Prize for Fiction 2011, an extraordinary true-life tale about a long-forgotten mystery... Arthur and George grow up worlds apart in late nineteenth-century Britain: Arthur in shabby-genteel Edinburgh, George in the vicarage of a small Staffordshire village.
Arthur is to become one of the most famous men of his age, while George remains in hard-working obscurity.
But as the new century begins, they are brought together by a sequence of events that made sensational headlines at the time as The Great Wyrley Outrages.
This is a novel about low crime and high spirituality, guilt and innocence, identity, nationality and race.
Most of all it is a profound and moving meditation on the fateful differences between what we believe, what we know and what we can prove.
Information
Format: Paperback
Pages: 512 pages
Publisher: Vintage Publishing
Publication Date: 01/03/2006
Category: Historical fiction
ISBN: 9780099492733
Other Formats
EPUB from £4.99
Paperback from £6.69
Free Home Delivery
on all orders
Pick up orders
from local bookshops
Reviews
Showing 1 - 5 of 13 reviews.
Previous | Next
Review by murraymint11
16/06/2015
"Found the end dragged out and not really sure of relevance of Arthur's memorial seance as George's memorial/ funeral was not contrasted and the two men were not really in contact then. it just made the book too long and I think the best point to end would have been George attending Arthur and Jean's wedding. This to me was when the story did end as it was when the pardon was received and reacted to, and was when the men last met"I agree whole-heartedly with the comments above regarding the ending, and I would go further and say that I think the second 100 pages could have been significantly reduced.... the story only got going again once Doyle started investigating George's case. I disagreed with Richard's comment that this book was an 'easy' read - in fact Judy was nearer the mark when she said it was a 'literary' read.There were parts of the book which I enjoyed, the beginning where the two main characters were drawn, and the investigations by Conan Doyle, but I found other parts really dragged, such as Doyle's endless deliberations regarding his relationship with Jean while his wife was ill, and the 'Psychical' references, especially the seance at the end.
Review by MeganS
16/06/2015
A book I thought I would love and I didn't... Its an interesting story though from a historical perspective. It did make me look up the real story so I guess it did grab me in some way.
Review by jojoma
16/06/2015
I really enjoyed this book.Absolutely unputdownable.The structure of the book,the beautifully delineated characters and the language...brilliant.
Review by riverwillow
16/06/2015
This is an interesting, surprisingly gentle, book based on a real-life case which ultimately led to the setting up of the Courts of Appeal. It reads, more or less, like a typical work of historical fiction with a narrative that is alternatively focused on George Edjali, accused and convicted of mutilating animals, and Arthur Conan Doyle, who was convinced of George's innocence. My main criticism is that the characters just do not come across as three-dimensional and emotionally sound leaving me, as a reader, as an emotionally observer of the events described in the text . But a good read nonetheless
Review by joe_saltears
16/06/2015
Excellent. Perhaps, best of Barnes' books so far. He gave up on trying to be sophisticated in favour of being interesting, but kept up the "clever". This was the first time I've heard about the story, so for me the George part was considerable more exciting than the Arthur bits.