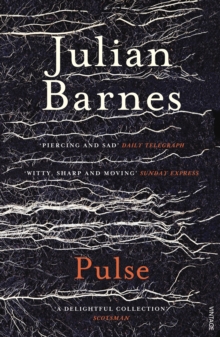 Description
The stories in Julian Barnes' long-awaited third collection are attuned to rhythms and currents: of the body, of love and sex, illness and death, connections and conversations.
A divorcee falls in love with a mysterious European waitress; a widower relives a favourite holiday; two writers rehearse familiar arguments; a couple bond, fall out and bond again over flowers and vegetable patches. And at a series of evenings at 'Phil & Joanna's', the topics of conversation range from the environment to the Britishness of marmalade, from toilet graffiti to smoking, as we witness the guests' lives in flux. Ranging from the domestic to the extraordinary, from the vineyards of Italy to the English seaside in winter, the stories in Pulse resonate and spark.
Information
Format: Paperback
Pages: 240 pages
Publisher: Vintage Publishing
Publication Date: 01/08/2011
ISBN: 9780099552475
Free Home Delivery
on all orders
Pick up orders
from local bookshops
Reviews
Showing 1 - 2 of 2 reviews.
Review by evaberry
16/06/2015
Astute and beautifully written, as always. A few stories are heavy on dialogue and I don't think Barnes is at his best with dialogue. Also a few of the stories felt quite out of place to me (Harmony and Carcassonne, mainly).
Review by edwinbcn
16/06/2015
Pulse is a sublime collection of short stories by Julian Barnes. In 14 stories Barnes explores the theme of what makes a good marriage, in particular focussing on the role of communication in relationships. It is sometimes said that great artistry is borne out of misery, and that a happy marriage is often improductive, at least to some authors. Barnes collection Pulse seems some proof towards that statement. While Barnes openly mourned his wife, who died in 2008, in Levels of Life, Pulse published in 2011 is a superb collection of tales looking at various aspects of perfect and failed marriages.Various stories in the collection explore the role of communication in relationships: what is said, and what isn't; what cannot be talked about, or a free flow of banter. The four stories centred on Phil and Joanna are about such a flow of easy-going, witty but not overly serious conversation. In "East Wind" the lover's prying into privacy and (unspoken) acknowledgement of what the woman tried to conceal breaks up the relation, while in "Trespass" the man treats his new girlfriend as a pure substitute for his ex, falling into the same behavioural patterns, and failing to see why she does not want to marry him. His need to make that explicit is just why.Several of the stories deal with rutted-in behavioural patterns, including, for instance, 'dirty talk' in the title story, "Pulse" which is the last story in the collection.Most stories are characterized by a sublime subtlety, surpassing Barnes previous work. As the theme of the stories is language, likewise the reader must be fine-tuned to listen and spot Barnes' subtle wit, as some irony is explicit and some implicit. Still, there are a number of hilarious moments, which may make you laugh out loud, as in the story Carcassonne".The 14 stories in Pulse are divided into two sections, the division is not very clear, except that the first nine stories in Part One seem a bit closer to everyday life, while the five longer stories in Part 2 seem more serious. Conversation in fiction does not seem Barnes strongest point, nonetheless the conversations in the various stories, while perhaps not the most natural, serve their purpose. In prose, Julian Barnes seems best when the stories take on the hue of non-fiction, as do the stories in Part 2. These stories, with apparently fictionalized autobiographical elements, are most effective, and various are unforgettable.Having read several works by Julian Barnes, it must be said that Pulse belongs to the toppers, on a par with Flaubert's Parrot.Highly recommended.