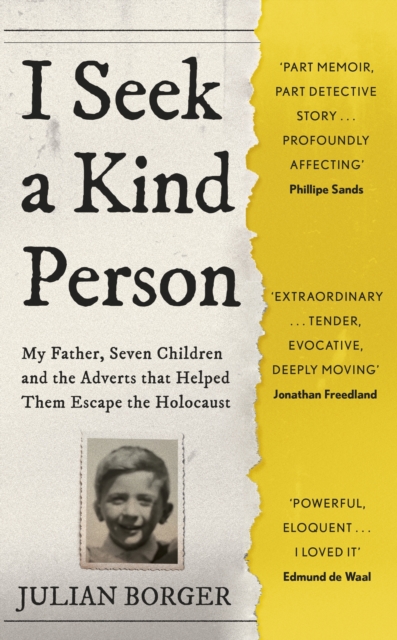 I Seek a Kind Person : My Father, Seven Children and the Adverts that Helped Them Escape the Holocaust
Hardback
Description
'A powerful, eloquent and deeply affecting book. I loved it' EDMUND DE WAAL'Tender, evocative and deeply moving' JONATHAN FREEDLAND'Profound, elegiac and fascinating...
I zipped through it' PHILIPPE SANDS'I SEEK A KIND PERSON WHO WILL EDUCATE MY INTELLIGENT BOY, AGED 11.' In 1938, Jewish families are scrambling to flee Vienna.
Desperate, they take out adverts offering their children into the safe keeping of readers of a British newspaper, the Manchester Guardian.
The right words in the right order could mean the difference between life and death. Eighty-three years later, Guardian journalist Julian Borger comes across the advert that saved his father, Robert, from the Nazis.
Robert had kept this a secret, like almost everything else about his traumatic Viennese childhood, until he took his own life.
Drawn to the shadows of his family's past and starting with nothing but a page of newspaper adverts, Borger traces the remarkable stories of his father, the other advertised children and their families, each thrown into the maelstrom of a world at war. From a Viennese radio shop to the Shanghai ghetto, internment camps and family homes across Britain, the deep forests and concentration camps of Nazi Germany, smugglers saving Jewish lives in Holland, an improbable French Resistance cell, and a redemptive story of survival in New York, Borger unearths the astonishing journeys of the children at the hands of fate, their stories of trauma and the kindness of strangers. I Seek a Kind Person is a gripping family memoir of grief, courage and hope, connecting us with multiple generations, distant continents and the hidden histories of our almost unimaginable past.
Information
Format:Hardback
Pages:304 pages
Publisher:John Murray Press
Publication Date:18/01/2024
Category:
ISBN:9781399803304
Information
Format:Hardback
Pages:304 pages
Publisher:John Murray Press
Publication Date:18/01/2024
Category:
ISBN:9781399803304