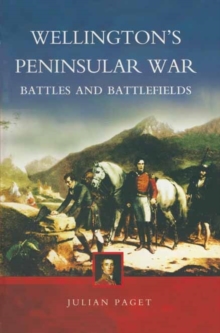 Wellington's Peninsular War
Paperback / softback
Description
Wellington's Peninsular War provides a concise and comprehensive account that can be enjoyed by both professional and amateur historians and which includes details of the battlefields as they are today and how to find and explore them.
The Peninsular War (1808-1841) was part of the twenty year struggle against Napoleon Bonaparte that involved campaigns in Europe, the Middle East, Russia, the West Indies, South America and South Africa and until 1914 was known as 'The Great War'.
The author has presented a balanced picture of the whole campaign and gives due credit to the Spanish and Portuguese efforts without which victory would not have been possible.
Arranged in sections, the author starts with a review of the whole war and the background to it and follows with a complete chronological account of the war year by year.
Finally a chapter on each of the major battles includes maps and photographs of the battlefields, orders of battle and instructions on how to find the battlefield today and what to see there. The maps show the ground as it was at the time but also include modern features to identify where the fighting took place enabling the reader to stand where Wellington would have stood when surveying the battlefield.
Information
Format: Paperback / softback
Pages: 288 pages, Illustrated
Publisher: Pen & Sword Books Ltd
Publication Date: 26/07/2005
Category: European history
ISBN: 9781844152902
Other Formats
EPUB from £5.39
PDF from £5.39