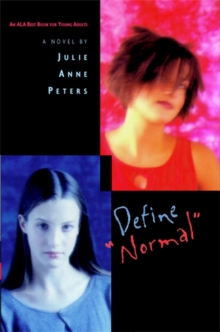 Define Normal : A Novel
Paperback
Description
Overachiever Antonia is eager to participate in the new peer counselling programme at school - until she learns the person she's supposed to counsel is Jasmine Luther.
Jazz is anything but Antonia's peer. She's a punk, a druggie, a gang hanger. But as their peer counselling sessions progress, Antonia and Jazz discover that they have more in common than they could ever have imagined.
When Antonia's life begins to unravel, she finds Jazz may be her only aid.
A poignant, darkly comic novel that challenges readers' definitions of what is 'normal'.
Information
Format: Paperback
Pages: 196 pages, illustrations
Publisher: Little, Brown & Company
Publication Date: 02/02/2006
Category: Self-help & personal development
ISBN: 9780316734899
Free Home Delivery
on all orders
Pick up orders
from local bookshops
Reviews
Showing 1 - 5 of 17 reviews.
Previous | Next
Review by allthesedarnbooks
16/06/2015
This was a short, quick read, and an excellent young adult book. I was a little surprised by how much I enjoyed it, because I had previously read Peters's Luna and found it to be somewhat overrated. Luna is about a transgendered teenage boy, a topic which on the surface seems much more exciting than that of Define "Normal", which is about an unlikely friendship formed between two very different middle school girls who meet during a peer counseling session. The characters and situations are very realistic, and this is another one that I couldn't put down. I finished it in one sitting. Definitely recommended.
Review by knittydragon
16/06/2015
Julie Ann Peters has become one of my favorite authors for teens. She takes topics that lots of authors tackle, but handles them with a raw, unflinching style that I find more honest. No sugar coating necessary. The don't judge a book by its cover theme is written effectively and managed by characters who are far from stereotypical. This keeps the book from feeling like a hammer making its point to a nail.
Review by Omrythea
16/06/2015
Makes you think about stereotypes and what really makes a good friend. Well-written.
Review by Mdshrk1
16/06/2015
Two girls are put into a "PC" program at school. Both think they are the peer counselor, but, in reality, both counsel each other. One is a punk, the other a geek which makes for interesting byplay.
Review by baachan
16/06/2015
In Julie Ann Peter's Define Normal, Jazz (short for Jasmine) and Antonia (whom Jazz starts to call Tone) are paired up for teen counseling. Antonia has agreed to be a peer mentor because she hopes to get into a college prep program and needs the extracurricular activities; Jazz is her mentee. Or, at least it's set up to look that way. Both girls learn a lot from each other and become friends, in the midst of a difficult time for Antonia, as her home life deteriorates and her responsibilities for her younger brothers increase. Peters does a good job of depicting the interpersonal relationships in this novel; they are believable. However, the dialogue didn't ring true and Antonia's type-A personality didn't really come through as authentic. Antonia's plight never seemed truly desperate, though I'm sure Peters intended it to be. But there was a certain authenticity lacking from the story. Antonia's mother, hospitalized due to clinical depression, could have been better developed as a character. All in all, this is a great discussion piece for readers aged 12-14. There's no drinking, sex, drugs, or smoking, and the book will challenge young readers to rethink their stereotypes of the social clique and the individuals they encounter at school every day. I think that a middle school book group could have a field day with this book; it addresses familiar teen topics: family responsibilities, asking for help, reaching out, befriending people that are different from you, and tensions with parents. Recommended for teen public library collections and middle school libraries.