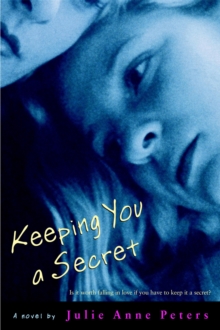 Keeping You a Secret
Paperback
Description
Why fall in love if you have to keep it a secret? With a steady boyfriend, the position of Student Council President and a chance to go to an Ivy League college, high school life is just fine for Holland Jaeger.
That is until Cece Goddard comes to school...Cece and Holland develop undeniable feelings for one another, but how will others react to their burgeoning relationship?
This moving love story between two girls is the worthy successor to Nancy Garden's classic coming out novel, Annie on my Mind.
With Peter's usual humour and breezy style this is a compelling read.
Information
Format: Paperback
Pages: 272 pages
Publisher: Little, Brown & Company
Publication Date: 04/05/2005
Category: General
ISBN: 9780316009850
Free Home Delivery
on all orders
Pick up orders
from local bookshops
Reviews
Showing 1 - 5 of 17 reviews.
Previous | Next
Review by olyra
16/06/2015
i think that lesbian relationships are the most darling, adorable relationships...better than gay or straight ones by far (i know, it all depends)
Review by Heather19
16/06/2015
This is a very good book, with a very realistic protrayal of how hard it can be to come out, and the consequences. Probably my all-time favorite lesbian book, and no question my favorite teen coming-out story.
Review by librarymeg
16/06/2015
Holland is, by all appearances, the perfect high school student. She is student council president, she's taking extra and advanced classes in pursuit of a college scholarship, she's on the swim team, and she has a popular and devoted boyfriend. Despite all this, she feels pressured by her mother, friends, and guidance counselor to pursue a particular kind of life that she's not sure she wants. Everything changes for her one day when CeCe transfers from another school. CeCe is confident, beautiful, and openly gay and Holland feels drawn to get to know her better. I thought that this book was a perfect representation of a novel for teens. It involves a touching and sweet representation of first love, but combines it with all of the uncertainty and awkwardness involved in figuring out who you are and how to be proud of it. Although the romance is between two girls, I don't think that its appeal would be limited to gay and lesbian teens. Everyone who's experienced the agony of growing up, wondering where you fit in, and wondering whether the person you like likes you back will be able to relate to this sensitive and honest book. It certainly spoke to me, and I'm in my thirties and straight. I can only imagine how vividly it would speak to a teen living through those difficult high school years.
Review by nm.spring08.c.way
16/06/2015
really enjoyed this book; I must admit that it brought up a lot of strange conversations with my parents. I really think this book has changed my in put on the whole conservancy on gay and lesbian rights. People should not have to go though what the Julie Ann Peters did, it scares me. I think that this book was well written and it makes you really think about the world and the way people act.
Review by nm.spring08.s.west
16/06/2015
Best book EVER!!! I think this book should be required for all high school students to read. Cece and Holland are my new heroes and I don't think anything I've ever read yet can match the emotion of this book. 'Keeping You a Secret' kept me up all night reading and made me cry numerous times. I pass this book on to everyone I know and I'm excited to find and read all of Julie Anne Peters other books.