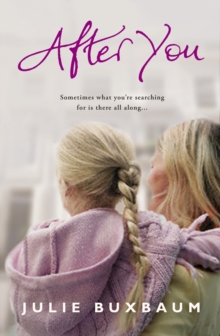 Description
Ellie's life is turned upside down when she learns the heartbreaking news that her best friend, Lucy, has been murdered.And, as best friends do, Ellie drops everything to travel to London to pick up the pieces.
Desperate to help Lucy's traumatized child, who has simply stopped speaking, Ellie turns to the book that gave her comfort as a child - The Secret Garden. And while its story of hurt, magic and healing blooms around them, so too, do the secrets Lucy kept hidden, even from her best friend.
As Ellie peels back the layers of her friend's life, she's forced to confront her own as well.
Suddenly her carefully constructed existence spins out of control in a chain of events that will transform her life - and the lives of those around her - for ever.
Information
Format: Paperback
Pages: 416 pages
Publisher: Transworld Publishers Ltd
Publication Date: 19/08/2010
ISBN: 9780553818840
Other Formats
Paperback from £9.99
EPUB from £3.99
Free Home Delivery
on all orders
Pick up orders
from local bookshops
Reviews
Showing 1 - 3 of 3 reviews.
Review by WillowOne
16/06/2015
Julie Buxbaum grew up in New York, attended the University of Pennsylvania and also Harvard Law School. After many years practicing law she realized it just wasn't for her so she quit and started writing her first book, "The Opposite of Love".Her second book, "After You" is a poignant look at tragedy and the effects it has on the lives it touches. Ellie Lerner receives the call that her best friend, Lucy, has been killed in a robbery attempt and her 8 year old daughter, Sophie, witnessed the whole thing. Ellie jumps on the next plane to London, England to be there for her goddaughter. While helping Sophie cope with what has happened secrets Lucy has kept are brought to the forefront and Ellie is left to wonder just how well she knew her friend. Ellie's marriage is also on the rocks and her husband thinks she needs to come home and deal with their marriage. As everyone tries to heal some things get better, while others get worse. Sometimes tragedy, both old and new can bring people together or tear them apart.When I first began to read this book I felt it was moving a bit slow, but sometimes in order to convey the enormity of emotion felt, the author must move slowly. I feel this author did just that, working through the shock, pain, grief, guilt and anger to bring the reader closer to the story. The story is tragic and sad, but also straight out of life. This story could easily have been written about someone in your local paper. A story that those of us with children and/or Godchildren hope we never have to be in. This is not your happily ever after story, it is a sincere look at the aftermath of crime and the healing that takes place.
Review by helen295
16/06/2015
Eight-year-old Sophie has been left traumatised after witnessing the murder of her mother, Lucy, in the street near their London home. Sophie's reaction to the tragedy is simply to stop speaking. Lucy's best friend, Ellie Lerner, has travelled from America to London to try to help her goddaughter and she becomes determined to break through Sophie's self-imposed silence. Knowing how much Sophie loves reading books, Ellie decides to introduce her to one of her own childhood favourites - The Secret Garden by Frances Hodgson Burnett.I was very unsure about this book at first; it looked very 'chick lit' and I'm not usually a fan of chick lit. So why did I want to read it, you might ask? Well, the plot sounded interesting and the Secret Garden connection piqued my curiosity (The Secret Garden was one of my favourite books when I was a child). It's nice to think that sharing a special book with someone can help them through a difficult time. I also learned a few interesting facts about the book - I never knew Frances Hodgson Burnett was inspired by the walled garden at Great Maytham Hall, for example.The author has given Sophie a well-developed personality of her own, making her a believable and endearing eight-year-old. She's a girl who prefers reading to playing games and as a result isn't very popular with other children her age; Ellie's own love of books helps her to form a bond with Sophie and watching their friendship develop was one of the highlights of the story.This book is not just about Sophie though. I was kept guessing how Ellie's own problems and relationships were going to resolve themselves, as it wasn't immediately obvious what was going to happen. As the main character and narrator, I didn't always agree with Ellie's actions but as the book progresses it becomes obvious that she is grieving too - and not just for Lucy - and is trying to work out what she wants from life. Another aspect of the book I found interesting was the way Ellie, as an American woman from Boston, had to adapt to the British culture and life in London.So, although this was not a book I would usually have chosen to read, I did enjoy it. It was a much more complex and emotional story than I had been expecting with some important messages about love, loss, relationships and family.
Review by juniperjungle
16/06/2015
After enjoying my first book I was really looking forward to seeing what the next of my books from Transworld's Summer Reading Challenge was going to hold. "After You" appears to be marketed towards the Jodi Picoult reading market, it comes complete with a quote from her on the front cover. I've read most of Jodi Picoult books so thought I'd probably enjoy this one too. I actually found it to be a more straightforward read than most Jodi Picoult, it was less focussed on issues and moral debates.<br/><br/>"After You" tells the story of Ellie who travels from America to London when her best friend Lucy is murdered. Lucy leaves behind a husband and daughter, both of them are reeling from the loss. As Ellie begins to help them find their way forward she starts to realise that maybe their lives aren't the only ones that are broken. <br/><br/>I thought this book was well written and very easy to get stuck into. I read it in two sittings, but if I'd started reading it earlier than I did I would probably have stayed with it until the end. The characters were all well crafted, I especially fell in love with Lucy's daughter Sophie, a bookworm whose thirst for knowledge has left her socially isolated. I loved the fact that all of the characters were there for a reason, they all had their own plotlines rather than being there simply for padding.<br/><br/>I shall definitely be looking to read more by Julie Buxbaum.