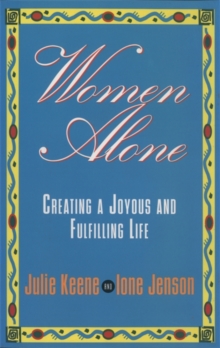 Women Alone : Creating a Joyous and Fulfilling Life (The New Synthese Historical Library)
Paperback / softback
Description
Never married? Divorced? Widowed? Currently in a relationship but concerned about possibly being alone sometime in the future?
If so, then this is the book that will show you how you can live fully and joyously, no matter what your marital status!
The authors, strong and independent women in their own right, reveal:* why it's so important to stop waiting for 'Mr. Right' to make it 'all right' and to really start living life RIGHT NOW;* how to overcome your fears of living alone, dealing with ill health, and losing control of other aspects of your life;* the myriad creative alternatives that are available with respect to companionship, living arrangements, hobbies and interests, financial planning, and much more;* how to break out of old patterns of self-defeating behaviour and claim the first-class life that is your birthright;* how to come to the realisation that you - a woman alone - needn't be lonely, or play out the victim role... Instead... you can empower yourself to achieve everything you want in life and be a vital part of society!
Information
Format: Paperback / softback
Pages: 224 pages
Publisher: Hay House Inc
Publication Date: 01/05/1995
Category: Popular psychology
ISBN: 9781561701193