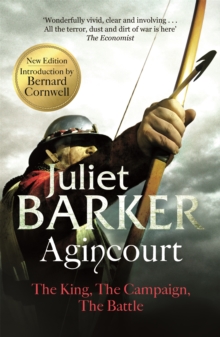 Agincourt : The King, the Campaign, the Battle
Paperback
Description
Agincourt took place on 25 October 1415 and was a turning-point not only in the Hundred Years War between England and France but also in the history of weaponry. Azincourt (as it is now) is in the Pas-de-Calais, and the French were famously defeated by an army led by Henry V. Henry V's stunning victory revived England's military prestige and greatly strengthened his territorial claims in France. The exhausted English army of about 9,000 men was engaged by 20,000 Frenchmen, but the limited space of battle favoured the more compact English forces. The undisciplined charges of the French combined with the exceptional skill of the English archers contributed to a pivotal moment in European warfare. Not more than 1,600 English soldiers died; the French probably lost more than 6,000 men.Juliet Barker's shimmeringly brilliant narrative commemorates and analyses a canonical battle in British history.
Information
Format: Paperback
Pages: 528 pages, Section: 16, b/w
Publisher: Little, Brown Book Group
Publication Date: 06/07/2006
Category: European history
ISBN: 9780349119182
Free Home Delivery
on all orders
Pick up orders
from local bookshops
Reviews
Showing 1 - 4 of 4 reviews.
Review by Miro
16/06/2015
Henry V was lucky, with a more disciplined application of sound tactics the French could easily have routed his small English force but in the event their disorganized cavalry was shredded by efficient archery as their armoured knights on foot slithered around in a muddy field where the English slaughtered them by the thousand.However, the book goes beyond the battle using original resources for an illuminating account of middle ages chivalry and it's ranks, rights, obligations and persistent money problems.
Review by jcbrunner
16/06/2015
Crécy, Poitiers, Agincourt. The English triple victories of the Hundred Years War certainly have received plenty of attention over the years. Not only Shakespeare has discovered the appeal of the (assumed) underdog. In fact, it was a question of technology vs social customs: The sophisticated French armoured mounted knights were outclassed by the more flexible (stake-protected) English archers (or, in the Swiss case, pikemen). The Hundred Years War is a testament to the slow learning curve of military castes.Juliet Barker has written a splendid, if non-traditional campaign study. If you like Barbara Tuchman's writing, you will be immediately familiar with Barker's approach. In fact, the battle per se is covered only in a single chapter of twenty pages (out of 400), given the scarce and conflicting sources available. The book features neither a map of the battlefield proper nor a order of battle (whatever merit they have in medieval times). These I found in the epynomous Osprey campaign booklet, along with a couple of excellent illustrations, a recommended complement to this book. I enjoyed reading Barker's book for its details on raising and financing a late medieval army by indentures, her vignettes on medieval life and especially her observations on chivalry (the focus of her previous books). I look forward to the follow-up work which will deal with the English occupation of Northern France. It will be interesting to see the story of Joan of Arc covered from an English point of view. The anglo-centric approach of this volume is the only negative point I could mention. A couple of doomed French knights are no match for the pivotal character Henry V.Agincourt is a case study for military prudence. A Fabian strategy would have worked far better for the French. Letting Henry V escape to Calais would have given him a fruitless victory (and a possible bankruptcy). Tactically, simply blocking Henry's forces would also have been a winner. Doing nothing, however, was not an option. On they marched through the mud to their doom. The decapitation of the French nobility (like Stalin's massacre of the Polish officers at Katyn) crippled their resistance to the oncoming occupation. On the English side, Agincourt was a lucky affair. At several points, a slight change in fortune might have resulted in disaster. Henry V was truly blessed with incompetent opponents. Recommended.
Review by sloopjonb
16/06/2015
I read more history than fiction these days; perhaps because the stories are better. This book is an excellent example of that. Barker gives a detailed and very readable account of the Agincourt campaign, shows how and why Shakespeare got Henry V both wrong (no carouser with the Falstaffs, he) and right (yes, he did make an inspiring speech before the battle) and illustrates it all with many delightful asides and illustrations of medieval life. Such as the story of King Henry II's favourite court jester. Henry was so taken with this jester's act that he settled an estate on him and his heirs, provided he or his heir turned up at court and performed the turn each Easter. The family soon lost the estate ... which is quite understandable when you learn the jester was called Roger the Farter, and his trick was a simultaneous leap, whistle and fart.I had high hopes of this book from the beginning (and was not disappointed); Juliet Barker had already won my admiration, first for comprehensively overturning the Gaskellian myths about The Brontes, and then for turning Haworth Parsonage Museum into a much livelier and more interesting place. One of the things she did there was cajole the Briitish Library into lending the original manuscript of Jane Eyre. I saw it at Haworth, and so did one Jasper Fforde, which gave him an idea ....
Review by yeremenko
16/06/2015
A fine book. It does a wondereful job in introducing the people involved and the way they thought. Barker patiently sets the scene for the famous battle. She strikes a perfect balance between personal stories of protagonists and the broad view of history.