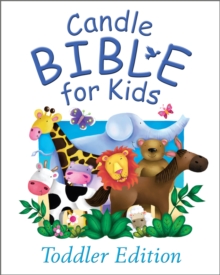 Candle Bible for Kids Toddler edition
Hardback
Description
Candle Bible for Kids is the perfect starting point for children. Now toddlers have an edition designed just for them, with simple text and bright art. The Candle Toddler Bible provides a great overview of the bible stories in bite sized chunks they can understand.
Illustrated by Jo Parry and written by popular author Juliet David this is an ideal introduction to the bible.
Free Home Delivery
on all orders
Pick up orders
from local bookshops
Reviews
Showing 1 - 4 of 4 reviews.
Review by alekee
16/06/2015
This book is a toddler edition, and loved the thick colorful cover on it, made to catch the eyes of the little one. The pages are not cardboard, but sturdy. You will be able to spend a wonderful time reading this to your little one. We start at the beginning, and each page has a colorful eye catching illustration.There are 160 beautiful pages for you to enlighten your little one with. What a wonderful way to end the day, and prepare for bedtime. Our little ones are a bit older, 5 and 7, so I am going to pass this great gift on to a friend with a 2 year old…perfect!!I received this book through the Publisher Lion Hudson, and was not required to give a positive review.
Review by VeraGodley
16/06/2015
About the book: The successful Candle Bible for Kids with the distinctive art style of Jo Parry, is now available in a version specially written for younger readers. The Candle Bible for Kids, Toddler Edition features simplified text by Juliet David, as well as a smaller size and fewer stories, which makes it an ideal introduction for younger readers. Sure to be a family favorite.My thoughts: My preference for illustrations is along a different design or format of art, but the very young child - the toddler - will relate very definitely and positively to these colorful, simple drawings that definitively express what the story is saying at that point. Look at the hills and valleys, the trees and flowers in the page shown below. Their eyes will interpret it just as their mind already had. And as they are capable of grasping a crayon and drawing, their art will capture lines similar to these.I love for the young child to be able to hold his or her own story book in their hands because they begin to consider the pictures and the words they have heard previously and that is how they begin to incorporate it into their heart. Story telling is seeding time for parents and what better seed to plant that the love of the Word of God and how He explains Himself to people through His Word - the Bible. Of course, we all recognize that the very young need very simple versions and ideas at the start or they will be overwhelmed. That is where these "bibles" or Bible Storybooks come into usefulness for the child and the parent.The Toddler Edition of Candle Bible for Kids is worth exploring and using with the young child in your life - parent, grandparent, aunt or uncle. Opportunity is knocking for you to plow the field and plant the seed in the young heart of a child.DISCLOSURE: A complimentary copy of Candle Bible for Kids: Toddler Edition was provided by Kregel Publications to me for the purpose of an honest opinion review without expectation of positive remarks. Opinions expressed are solely my own.
Review by Sarah_Bailey
16/06/2015
This endearing Bible is perfect for those little hands who want their own Bibles, but can't yet handle one without tearing the pages or the heaviness. It's small enough to fit in mom's purse (at 5 X 6.5 inches) or to carry on it's own and make any child feel special with their own Bible. While it's not real Scripture all the stories from Creation to God feeds Elijah to John baptizes Jesus to Jesus returns to His Father and others are written without taking away from or adding to Scripture. The stories are simply told, so that even the littlest of His flock can understand the timeless Truths that will become treasures as they grow. The beautiful and full colored illustrations keeps the child engaged and entertained as the stories are read and the hardy, padded hardcover will stand up to even the liveliest of children. A dedication page is included so that it can be a reminder of those wanting to pass on a godly heritage to a friend's child or a relative's child. I will note for those who wonder the Lord's Prayer that is included in this edition comes from The Good News Bible published by The Bible Societies/HaperCollins, however while I do enjoy the thous and thys of the KJV this one is simpler but still as meaningful, for younger children who may have a harder time understanding a more complex older English version. **Disclaimer: I was provided a copy of this book from Kregel in exchange for my honest opinion, no other compensation was given.
Review by jenniferbogart
16/06/2015
With such a wide age range of children (a few months old up to nine-years), I'm always reading a variety of different story book Bibles to try to cover everyone's needs developmentally. Our current Bible time in the morning currently includes a story Bible for my 2-year-old, a story Bible for my 4-year-old, and a Bible study that includes catechism and readings from the Bible (using the NIrV). My 9-year-old is studying independently this year.That might seem like overkill, but suffice it to say, my children are very familiar with the major stories of the Bible. They're able to start small and build up, adding details as they grow and mature. Lately we've been reading the Candle BIBLE for Kids: Toddler Edition for my 2-year-old (though of course, it seems that ALL of my smaller children listen in no matter which story Bible we're reading).This cute, cheerful story Bible has a padded cover and fairly sturdy, small pages. While it isn't a board book, the smaller format pages are easier for little hands to turn without the risk of ripping. So far, so good – my 2-year-old looks at this book on her own, turns pages, packs it around, and it's hanging in there. No rips so far.The book is 160 pages in length and includes 14 Old Testament stories and 22 New Testament stories. Most of the stories are around 4 pages long. Some in the New Testament section are as short as 1 page or 2 pages. Some in the Old Testament section are as long as 7 pages, but most seem to be 4 pages in length. Each page has only two to three short, easily understood sentences on it. The Bible stories themselves are fairly bare bones, but they cover all of the major points and bases. Juliet David's renditions are concise and readable.Jo Parry's illustrations are modern, bold and cheerful. They are high interest, and my little girls like to look through this title on their own just for the sake of the illustrations. They do portray Adam and Eve as children – something I'm never too keen on.Overall, this is a good solid starter story Bible for toddlers. It is holding up to our active toddler despite its many trips under the couch and around the house between Bible times and the stories are basic and readable – a good starting point for familiarizing wee ones with the major plot points in the His-story of God's people.Reviewed at quiverfullfamily.com