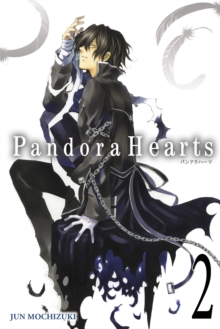 PandoraHearts, Vol. 2
Paperback
Description
'The answer you seek lies within them.'Oz Vessalius may have survived his stint in the Abyss, but he is no closer to discovering the truth behind the 'sin' for which he was condemned.
On the advice of a mysterious man who appeared to him when Alice regained the first of her memories, Oz, along with Alice and Pandora's Raven, embarks on a mission to investigate the site of his disastrous coming-of-age ceremony in search of answers.
However, what begins as a simple investigation becomes the revelation of a harsher reality, which comes swooping down on Oz as the hands of the clock continue ticking away mercilessly . . .
Information
Format: Paperback
Pages: 192 pages
Publisher: Little, Brown & Company
Publication Date: 18/05/2010
Category: Manga
ISBN: 9780316076081
Free Home Delivery
on all orders
Pick up orders
from local bookshops
Reviews
Showing 1 - 2 of 2 reviews.
Review by madmarch
16/06/2015
Excellent- even better than the previous volume, and with even more references to the "Alice" books. You also get to see more of characters such as Zwei, Raven, the Intention of the Abyss, and best of all, the enigmatic Xerxes Break.
Review by catfantastic
16/06/2015
[SPOILERS]In the second volume of <i>Pandora Hearts</i>, Oz learns that ten years have passed while he was trapped in the Abyss, and his little friend Gilbert is now the gunslinging, Gothic, Raven. They also learn about the <i>incuse</i>, a clock-like mark branded onto a person's skin, if they have a contract with a chain. The incuse counts down the time until they are pulled back into the Abyss. Everyone with a contract is marked with an incuse, including Oz. The story grows as more details about the world of <i>Pandora Hearts</i> become clear, and the bond of friendship between Oz, Gilbert/Raven, and even Alice, deepens. The art style is very smooth and clean with cute character designs. An easy manga to read &amp; enjoy.