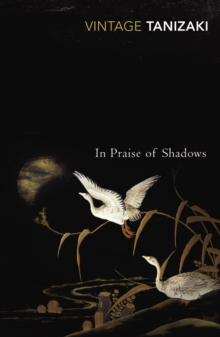 In Praise of Shadows
Paperback
Description
This is an enchanting essay on aesthetics by one of the greatest Japanese novelists.
Tanizaki's eye ranges over architecture, jade, food, toilets, and combines an acute sense of the use of space in buildings, as well as perfect descriptions of lacquerware under candlelight and women in the darkness of the house of pleasure.
The result is a classic description of the collision between the shadows of traditional Japanese interiors and the dazzling light of the modern age.
Information
Format: Paperback
Pages: 80 pages
Publisher: Vintage Publishing
Publication Date: 03/05/2001
ISBN: 9780099283577
Free Home Delivery
on all orders
Pick up orders
from local bookshops
Reviews
Showing 1 - 3 of 3 reviews.
Review by dlweeks
16/06/2015
I had a professor of Japanese history who argued that this book was actually meant to praise modernity and mock the old ways. I agree with him wholeheartedly after a few more reads.
Review by heterotopic
16/06/2015
Wanting to see the Oriental perspective of space, I was eager to read this book. Jumping from one subject to another, Tanizaki is quite easy to follow, yet his over-all study of light, shadows and space aren't fleshed out in this book. It may have to do with the translation, though, and the afterword by the Australian professor doesn't do the book justice at all, too, and only reminds us of the nuances and, perhaps, impossibilities of translation.
Review by missizicks
16/06/2015
On the surface, an inconsequential set of ramblings about how Japan's pursuit of Western illumination has ruined certain aesthetic traditions. I had to remind myself that it was written in the 1930s, at a time when Western-style "progress" was eating away at centuries of tradition in Japan. Tanizaki posits some interesting theories about why Japanese architecture and notions of beauty developed the way they did, embracing shadows and focusing on single aspects of beauty to be highlighted by the existence of the surrounding shade. I'm one of the Westerners he's perplexed by - I love light, and would throw open curtains, doors and windows to let it in. But I also understand his love of muted light, natural light, preferring it to the harsh glare of electric light as he does. Japan has changed too much over the past 80 years for me to ever experience the aesthetics Tanuzaki appreciated and mourned, so I won't ever be able to fully understand this essay, but I enjoyed it all the same.