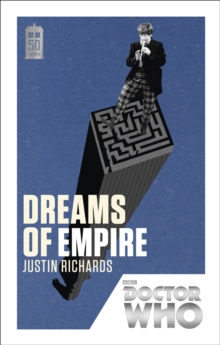 Doctor Who: Dreams of Empire : 50th Anniversary Edition
Paperback
Description
On a barren asteroid, the once-mighty Haddron Empire is on the brink of collapse, torn apart by civil war.
The one man who might have saved it languishes in prison, his enemies planning his death and his friends plotting his escape.The Second Doctor arrives as the last act of this deadly drama is being played out - and with both terrifying killers and cunning traitors to defeat, the future hangs in the balance. An adventure featuring the Second Doctor as played by Patrick Troughton and his companions Jamie and Victoria
Information
Format: Paperback
Pages: 320 pages
Publisher: Ebury Publishing
Publication Date: 07/03/2013
Category: Science fiction
ISBN: 9781849905244
Free Home Delivery
on all orders
Pick up orders
from local bookshops
Reviews
Showing 1 - 1 of 1 reviews.
Review by saroz
27/01/2016
I first read this book when it came out, in either late 1998 or early 1999. I would have been fifteen years old. I recall liking it at the time, which is almost certainly in part because it featured a halfway decent take on the second Doctor - my personal favorite - who had often been the subject of some truly dismal characterizations in earlier books. Coming back to it...yes, Richards does reasonably well with the second Doctor, Jamie, and Victoria. They're not pitch-perfect, which probably says how much their characterizations were devised by the actors playing them on television more than anything else. Richards, who has a famously good ear for characters' verbal idiosyncrasies (he wrote the first eleventh Doctor novel, it would seem, on the basis of a few script fragments), chooses to go the humor route with the Doctor here, amping up his comedic potential and arranging the kinds of physical business that Patrick Troughton and Frazer Hines often developed in rehearsal. It sort of works - but it also feels, oddly, rather calculated. The second Doctor has a lot of different aspects to his character, and it was only in the final showdown that I felt like Richards chose to show us more than one or two of the more obvious ones.The plot, unfortunately, is incredibly perfunctory (although, again, it improves somewhat for the final denouement). Like so man <i>Doctor Who</i> books, it's about futuristic soldiers in space, and the machinations of more than one character to gain power. It was probably a little more acceptable to me in the late 1990s when I wasn't so jaded against this type of pseudo-hard-SF, but it's awfully boring to me now. Is this the best second Doctor book the BBC could have picked to represent the second Doctor in its 50th Anniversary collection? Nope, it's not. That probably would have been Mark Gatiss' <i>The Roundheads</i>, set during Cromwell's attack on Charles I (and I'm <i>staggered</i> there isn't one pure historical in the entire set). That said, it really is one of the better candidates just by <i>not</i> being universally loathed. The second Doctor has never had a great run in prose, and surely that must be down to what a skilled actor Patrick Troughton was. His Doctor remains inimitable - and I would certainly rather watch either of his newly-recovered TV stories than read this book again!
Also in the Doctor Who series | View all