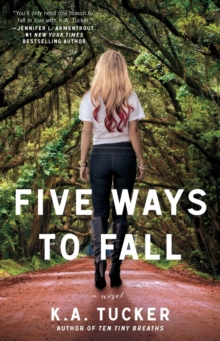 Five Ways to Fall : A Novel
Paperback
Description
Purple-haired, sharp-tongued Reese MacKay knows all about making the wrong choice; she's made plenty of them in her twenty-odd-years.
So when her impulsive, short-lived marriage ends in heartbreak, she decides it's time for a change.
She moves to Miami with the intention of hitting reset on her irresponsible life, and she does quite well...aside from an epically humiliating one-night stand in Cancun with a hot blond bouncer named Ben.
Thank God she can get on a plane and leave thatmistake behind her.
Football scholarship and frat parties with hot chicks?
Part of charmer Ben Morris's plan. Blown knee that kills any hope of a professional football career?
Sonot part of the plan. Luckily Ben has brains to go with his knockout looks and magnetism.
After three long years of balancing law school with his job as a bouncer at Penny's Palace, he's ready to lead a more mature life-until his first day of work, when he finds himself in the office of that crazy, hot chick he met in Cancun.
The one he hasn't stopped thinking about. If Ben truly were a smart guy, he'd stay clear of Reese.
She's the boss's stepdaughter and it's been made very clear that office romances are grounds for dismissal.
Plus, rumor has it she's trouble. The only problem is, he likes trouble, especially when it's so good-looking...
Information
Format: Paperback
Pages: 384 pages
Publisher: Atria Books
Publication Date: 24/06/2014
Category: Romance
ISBN: 9781476740515
Free Home Delivery
on all orders
Pick up orders
from local bookshops
Reviews
Showing 1 - 2 of 2 reviews.
Review by JeracaFite
16/06/2015
I received this free eARC in exchange for my honest review. I was so excited to see this available at Netgalley and automatically requested it! I was even more excited when my request was approved and proceeded to read it right away!When hearing that Ben was going to get a novel, I was intrigued. The playboy finally finding the one to keep bringing him back? Never. But Reese definitely made Ben intrigued and kept him coming back for more. And a girl who rides a motorcycle, has purple hair, tattoos and piercings? Not the type of girl I saw Ben with, but then again her "I'm not taking your shit" attitude, she was different and a challenge. Ben never turns down a challenge. At the end of this book, K.A. Tucker said it's the last of this series. Which I'm upset about. But I think a new SERIES could be made. And that series should be about Ben's siblings. Yeah? Anyone else agree? I think it would be amazing. Plus we could see Ben and Reece again, plus I loved Wilma and want to see more of her. Hopefully Tucker will see this request and seriously consider it? :)Again, loved this book in this series. I laughed out loud many times and had major feels. I think readers will love this new installment of the series and I'm so glad I got to read it early!
Review by brandileigh2003
16/06/2015
I wanted to read Five Ways to Fall because I have totally fallen for K.A. Tucker's characters and the world she has built in relation to Kasey and Charlie... with Cain and his club making for a tight circle of friends and drama. This one helped prove to me that NA is still for me since the last I read was a DNF. Reese is fiery and handles herself. But she has a lot of pain inside her not only from her new husband cheating on her early into the marriage to her father leaving her and a tumultuous relationship with her mom. She really stole my heart, but she also frustrated me because she made such rash decisions over and over and it only ended up in hurting herself and making a failed relationship hurt even more. Then dealing with the law and keeping herself out of trouble, I just wished that she could have learned more from the past and made her life better. She was doing that for the most part getting into a good job with her stepdad and devouring the paralegal world. We know Ben from previous books, and he's the same here. Happy, goofy, funny, a player. But we get to see another side of him. We see his relationship with his mom, and some insight into his family life growing up. We get to see all professional and serious Ben at work and that is pretty hot. Ben also befriends Mason, Reese's stepbrother, and that creates an inside for getting the job there, and also shows how he will be friends with anyone. Though we do see a lot of growth from Mason, and I liked that. He was able to find himself and be a little more laid back and accepting once in the hands of a woman. That was another thing that I liked about this one. Not only do we get a peek into the lives from some of our fave main and secondary characters from the first books, but this one also adds some strong side characters. Lina had a lot of personality and I appreciated the honesty but loyalty between her and Reese. The ever present hot chemistry between the characters has swept me off my proverbial feet once again. Reese and Ben meet in an unexpected circumstance and then their first attempted hook up goes array. Which leads to some hilarity once they end up working together. But though there were some potential for hot moments that were unfortunately interupted early in the book, it makes for a better and longer tension to build between them with wanting to keep Ben's job, since her stepdad owns the law firm they both work for. The ending took me by surprise in some ways, but I ended up loving it. I think that it worked out well and gave me a sense of closure with Reese and Ben even if I will miss them, and wish that I could get more time in their world. I was sad to find out this is the last planned in Ten Tiny Breaths series, but can always hold out hope that she'll change her mind, or that somehow I can love a new set of characters she writes just as much. Bottom Line: Hot, romantic and sweet.
Also in the The Ten Tiny Breaths Series series | View all