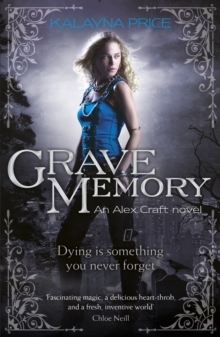 Grave Memory : Urban Fantasy
Paperback
Description
The third book in the Alex Craft urban fantasy series about a Grave Witch who can talk to the dead.
Perfect for fans of Charlaine Harris and Cassandra Clare.When the dead need to talk, Alex Craft is always ready to listen . . .As a Grave Witch, Alex solves murders by raising the dead - an ability that comes at a cost, and after her last few cases, that cost is compounding.
But her magic isn't the only thing causing havoc in her life.
While she's always been on friendly terms with Death himself, things have recently become a whole lot more close and personal.
Then there's her sometime partner, agent Falin Andrews, who is under the glamour of the Winter Queen.
To top everything off, her best friend has been forever changed by her time spent captive in Faerie.
But the personal takes a backseat to the professional when a string of suicides occur in Nekros City and Alex is hired to investigate.
The shades have no memory of the days leading up to their brutal endings, so despite the very public apparent suicides, this is murder.
But what kind of magic can overcome the human will to survive? And why do the shades lack the memory of their deaths?
Searching for the answer might mean Alex won't have a life to remember at all . . .
Information
Format: Paperback
Pages: 384 pages
Publisher: Penguin Books Ltd
Publication Date: 01/07/2012
Category: Fantasy
ISBN: 9780718193027
Free Home Delivery
on all orders
Pick up orders
from local bookshops
Reviews
Showing 1 - 1 of 1 reviews.
Review by NovaStalker
16/06/2015
Well it's been a long time coming. We finally spend actual time with the joke that was the romantic interest, Death. Two entire books of this character basically being a non-entity made for one of the worst love triangles I've read in recent memory and good christ am I glad that's over. Having had our mandatory "it's this guy's turn to be her one true love" we've finally actually gotten to know Death a little bit.I remain unconvinced by Death though I realise this is a failure on the author's part. It's a trope of the genre for people to be some completely madly in love with little to no warning but given how badly the character has been handled over the series until now I just can't get behind him suddenly having depth and replacing Falin. Obviously it's a contrivance on the author's part that just as Falin gets yanked away Death is suddenly there but it just doesn't sit right with me that this ghost of a character is suddenly winning the love triangle because the author said so.
Also in the Alex Craft series | View all